Mass. Governor's Council approves radical LGBT nominee for Appeals Court Judge by 7-1 vote
Thanks to a GOP governor, the legal landscape for pro-family people just got much worse
POSTED: December 12 2015
On Wednesday, Dec. 9, LGBT activist and advocacy attorney Vickie Henry was confirmed as a Massachusetts Appeals Court Judge. The vote was 7-1 by the 8-member Governor's Council, an elected body.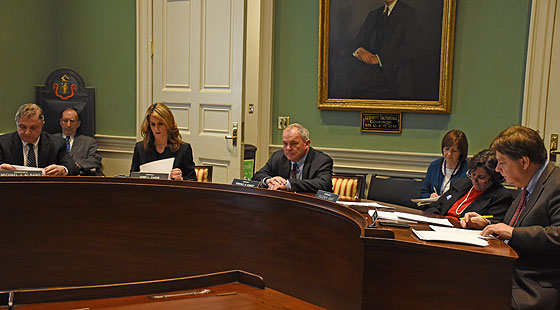 At the Dec. 9 meeting, Governor's Council member Christopher Iannella (far right) makes a motion for the confirmation vote of Vickie Henry. To his right are councilors Eileen Duff, Terrence Kennedy, Jennie Caissie, and Michael Albano. [MassResistance photo.]
She had been nominated by Republican Governor Charlie Baker on Sept. 30. Baker has been an unabashed supporter of both abortion and the homosexual agenda since he began running for governor. Unfortunately, many pro-family conservatives have continued to support him.
If the legal system in Massachusetts isn't already heavily biased against the pro-family people, it's about get much worse. In our opinion, she the most alarming judicial confirmation in memory. (This includes the recent eight years of far-left Gov. Deval Patrick.) And Gov. Baker is just in his first year!
Vickie Henry (left) poses with "gay" youth.
Photo: GLAD
For the last several years Vickie Henry has been working as an attorney for the Boston-based Gay & Lesbian Advocates & Defenders (GLAD), an aggressive LGBT legal group with a long history of radical, anti-family pursuits. Much of her work at the firm involved using legal pressure to force the LGBT agenda for children into schools and also government agencies that deal with families. Her title at the firm was "Youth Initiative Director."
Read more about Vickie Henry's and GLAD's radical activities here.
A quick 7-1 vote
In addition to public outcry regarding Henry directed at the Governor's Council, members of the Council were sent specific information by MassResistance. But they are basically a group of social liberals that the public votes for but actually knows little about, and most have strong ties to the legal community. So they generally just rubber-stamp the establishment's nominations.
The vote was done quickly and the meeting ended less than ten minutes after it was called to order. The dissenting vote was cast by Councilor Jennie Caissie, the lone Republican on the Council, who blurted out a very deliberate "no". However, Caissie later told State House News that the reason she voted against Henry was "her lack of trial experience." Caissie said,
She [Henry] lacks the requisite Trial Court experience to sit in judgement of Trial Court decisions on the Appeals Court. During her hearing it came out that she has had five trials in 15 years, and I've been very consistent that in order to sit on the Appeals Court as a practitioner you either need extensive Trial Court experience or you should be a sitting judge.
And of course, more fawning coverage by mainstream media
State House News Service covers the State House for lots of area media outlets. They rarely mention much about judicial appointments, other than for Supreme Judicial Court, except by name and maybe a sentence or two of background.
But not this time. Like the other media, State House News is very left-wing (and often openly hostile to social conservatives). So just before her confirmation vote, Vickie Henry got an entire State House News puff-piece article. And then the day after the vote, another puff-piece article. We've never seen that before for a judicial nominee for the Appeals Court.
This will be felt for many years to come
The legal landscape just gotten much, much worse for pro-family people. Judges in Massachusetts are appointed for life (until mandatory retirement age).
And we can expect more. As we've said before, this is what happens when conservatives blindly support "the lesser of two evils" without an enormous amount of pressure. Gov. Baker has little fear of a conservative backlash. He will still get lots of money from pro-family, pro-life donors. We know of one very conservative legislator who held a fundraiser for Baker this past week. And Baker knows they'll all vote for him next time, without complaining.
But at least you can count on MassResistance to hold the line, be vocal, and not sit still!
| | |
| --- | --- |
| | Mass. GOP Governor Charlie Baker knows he can take pro-family people for granted. |