Mass. General Election 2010
Pre-election Guide & Results

Governor's Council

POSTED: Oct 21, 2010
UPDATED: Nov 4, 2010 9:30 PM
The Governor's Council is a little known but very important group. They approve -- or deny -- all judicial appointments. A lot of bad judges are on the bench because the Governor's Council was just rubber-stamping things and not doing their job of scrutinizing candidates properly. The Governor's Council is made up of 8 people elected from 8 districts, and is chaired by the Lt. Governor, who also votes. They meet generally monthly at the State House.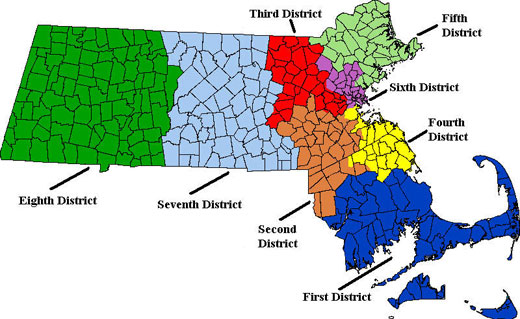 FIRST DISTRICT
50.1% R - CHARLES OLIVER CIPOLLINI, Fall River
49.9% D - OLIVER P. CIPOLLINI, JR., Barnstable
SECOND DISTRICT
55% D -*KELLY TIMILTY, Dedham
45% R - STEVEN GLOVSKY, Wayland
5% U - RICHARD MITCHELL, Natick
THIRD DISTRICT
60% D -*MARILYN PETITTO DEVANEY, Watertown
40% I - NICHOLAS IANNUZZI, Belmont
FOURTH DISTRICT
69% D -*CHRISTOPHER IANNELLA, Boston
31% I - JACQUOLYN PAYNE-THOMPSON, Boston
FIFTH DISTRICT
D -*MARY-ELLEN MANNING, Salem
SIXTH DISTRICT
55% D - TERRENCE KENNEDY, Lynnfield
35% R - PAUL CARUCCIO, Winthrop
7% I - SCOTT CRABTREE, Saugus
3% U - ANDREW MOSTONE, Winchester
SEVENTH DISTRICT
56% R - JENNIE CAISSIE, Oxford
44% D - FRANCIS FORD, Paxton
EIGHTH DISTRICT
63% D -*THOMAS MERRIGAN, Greenfield
37% R - MIKE FRANCO, Chicopee