Latest News - Feb 23
Outrage against CPAC from across
the conservative network:
Callers to CPAC office are told that we "lack common decency" - and worse! Huge outrage across the pro-family conservative network!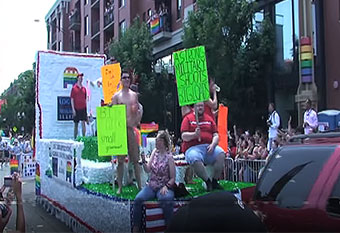 CPAC welcomes the radical LGBT Log Cabin Republicans, however, with their profane and offensive signs.

Because of our 2015 comments about the "culture war". But LGBT group "Log Cabin Republicans" is allowed!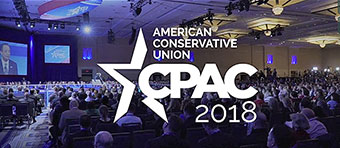 It's the largest "conservative" conference in America, but in recent years almost no pro-family groups are involved.
Parents are relentless! Strongly tell Board (and LGBT activists): No displays targeting children!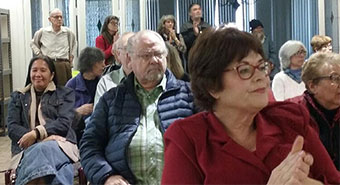 Outraged parents (and grandparents) in Temple, TX were not in any mood to allow the radical LGBT movement to target their children.
Local citizens group taking on public officials - and LGBT movement that's out to stop them. Led by Texas MassResistance activist pastor.


The LGBT movement is making this their battleground as they target the community's children.
Gender ideology has been a foundation of the propaganda that has fueled the sexual revolution. From the Teens4Truth conference!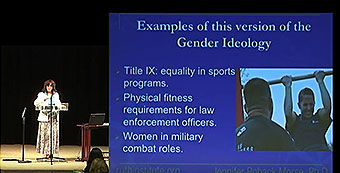 Jennifer Roback Morse, PhD., founder and president of the Ruth Institute.
As told by a pediatrician who was at the hospital where it started. An incredible speech from the Teens4Truth conference!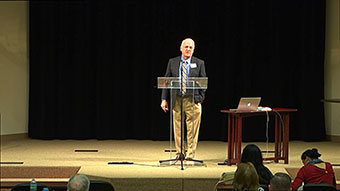 Quentin Van Meter, MD, FCP is a pediatric endocrinologist.
From the Teens4Truth Conference:
** Sex-proofing your kids: Preparing them for the minefields of today's society.
** Understanding the "gender vs gender identity" agenda targeting young children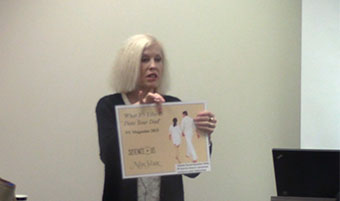 Dr. Lisa Nolland, from the UK, describes some of the perversions being introduced to kids -- that most parents know nothing about.
** Reparative therapy: How healing from homosexuality -- and true change -- really works.
** Former homosexuals and children of LGBTs speak the truth!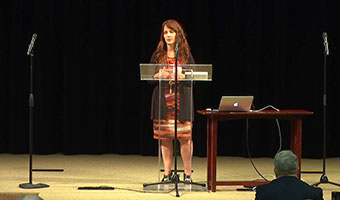 Denise Shick, daughter of transgender father.
Many more to come over the next week. Equipping youth and parents to take on the LGBT agenda.


Held at the Southwestern Baptist Theological Seminary in Ft. Worth, TX and sponsored by Texas MassResistance, it was a huge success!
Put your resources to work!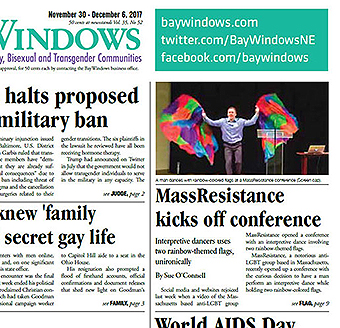 Getting their attention. The front page of a recent issue of Bay Windows, the Boston homosexual newspaper.
Equipping youth to take on the culture war. A hard-hitting pro-family conference with powerful presentations.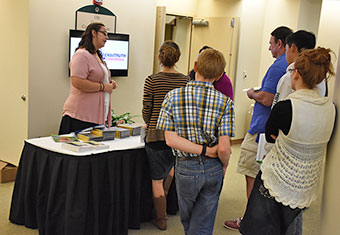 Teens and parents at a booth with material exposing the sexuality and LGBT propaganda being pushed at kids.
VIDEO from MassResistance in the United Kingdom:
'Homophobia' is illegal in the UK and can result in arrest. Here's how our MassResistance-UK chapter deals with it!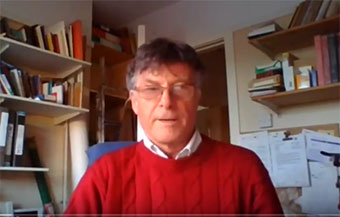 The video was considered to be so dangerous that their UK-based video-hosting company – run by conservatives – told us they were afraid to post it.
What you're not being told about the LGBT lies. A teacher tells how "gay" training is getting into your elementary schools.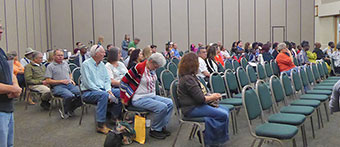 Parents from across the region came to the event. The crowd was stunned!
Parents fill Library Board meeting room. Led by local MassResistance Texas activist!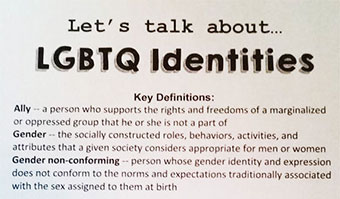 Given out in the children's section: Here's what the Temple, TX library officials think children should be told about.
Flood of vituperative articles across the USA and as far away as Britain The truth really hurts, apparently.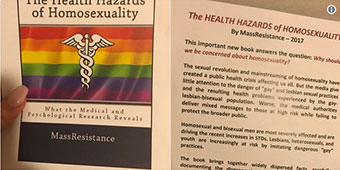 A pro-"gay" reporter got our flyer and tweeted this photo of it. It was reprinted by dozens of other news outlets.
Speakers included President Trump. But MassResistance was virtually the only pro-family group there directly dealing with the LGBT agenda!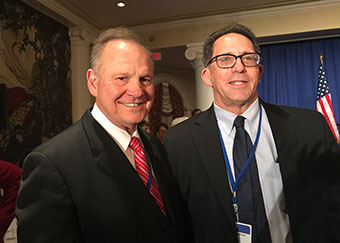 Judge Roy Moore.(left) with Brian Camenker of MassResistance at the Values Voter Summit.
MR activists directly confront officials in schools, libraries, and corporations. But officials refuse to stop it! So our pressure on them continues.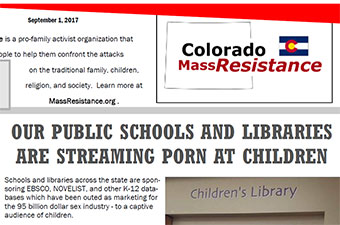 Parents are completely unaware of the hardcore pornography that schools are making available to kids.
In Ft. Worth TX, Nov. 18. By Texas-MassResistance - hosted by the Southwestern Baptist Theological Seminary. Finally, a conference that doesn't back down on this critical issue!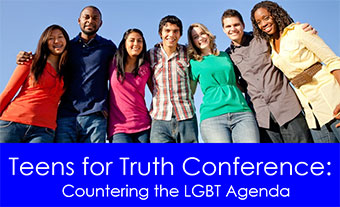 Pro-family teenagers and their parents have long needed a conference like this!
From physicians and conservative activists. Still the only book covering this crucial subject that no one wants to discuss.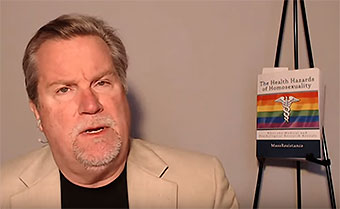 Cliff Kincaid, a prominent national conservative activist, prepares to interview Dr. Paul Church on a special show including the MassResistance book.

Their message to Archbishop: "Stop the Betrayals." Obey your own rules!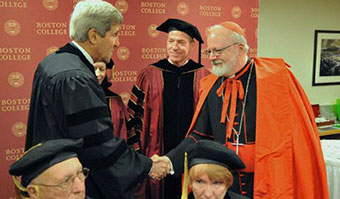 Cardinal O'Malley honors pro-abortion Secretary of State John Kerry with honorary degree at Boston College in 2014
At public library meeting: MassResistance-Texas parents present shocking facts on LGBT & sex-ed agenda in elementary schools. LGBT activists try to disrupt event.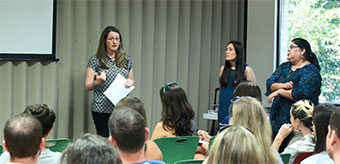 The three presenters taking questions - many from hostile LGBT activists - after the formal presentation.
Prominent Nigerians from church, education, and business communities attend book launch event. Book has already sold out - awaits second printing!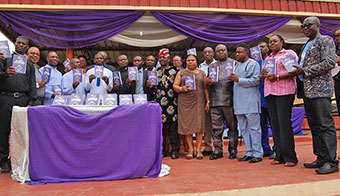 Prominent Nigerians attending the book launch event hold up copies of the book.
Taking on the "gay marriage" fight in their country. Also part of the battle: how the government defines "transgender".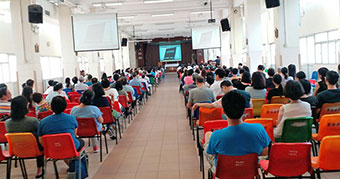 Chinese version of the MassResistance video "What gay 'marriage' did to Massachusetts" is shown to parishioners at a Catholic Mass in Hong Kong.
Hundreds of flyers about meeting passed out in local neighborhoods. Local TV station report about upcoming meeting. Hate-filled liberals create 'attack' website against parents - may disrupt event.
[NOTE: Full report coming up on Aug. 12 meeting
-- with photos & video!]

This flyer was passed out door-to-door to 1500 houses in Austin, TX.
Extraordinary physician stands on principle while under pressure to repudiate facts. The ideological corruption in the medical profession defies belief.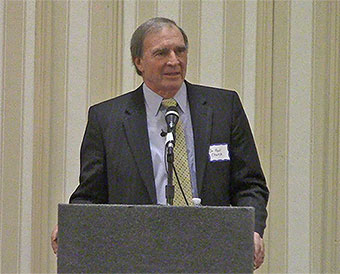 SEE VIDEO: At the MassResistance Luncheon in April, Dr. Church described his ordeal and the dangers the medical community is ignoring.
Telling the truth in a sea of lies and compromises. SEE VIDEO. Senate votes the right way afterwards!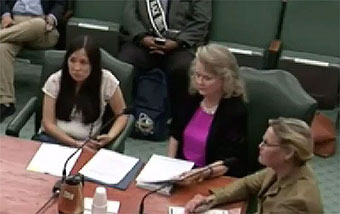 Facing down the committee. Texas Mass­Resistance mothers testifying at public hearing for Texas Privacy Act.
Confronting campaign to ban successful abstinence program from schools. Collusion by liberal school officials with leftist activists.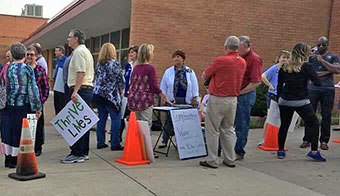 Parents gather outside of Parkway School Board meeting with signs in support of the school's abstinence program.
Uncompromising pro-family battle is spreading overseas! Activists from across the UK attend kickoff meetings.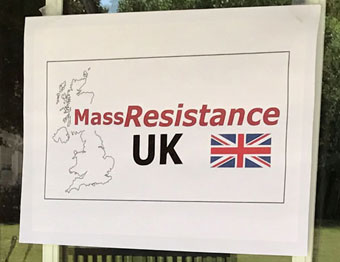 Sign at a meeting in Salisbury, England. A new group is taking on the pro-family battle!
Not backing down on the truth -- in a sea of insanity. (See PHOTOS and VIDEO.)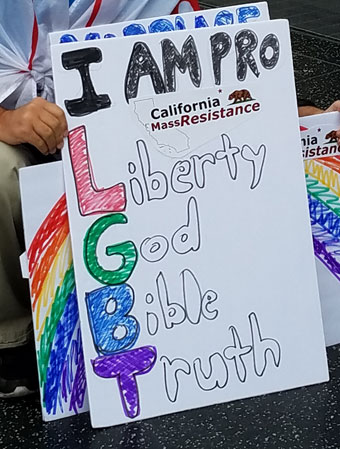 One of the prominent CA MassResistance signs that day. Definitely not what the rainbow crowd wanted to see!
Pro-Abortion activists waging vicious campaign to remove successful abstinence program from St. Louis area schools. MassResistance Missouri helping parents fight back.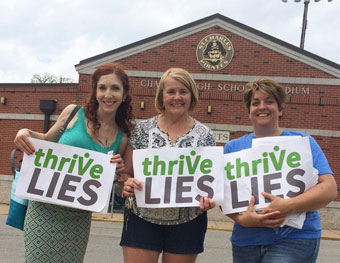 Pro-abortion activists demonstrating against the ThriVe abstinence program at high school in suburban St. Louis.
Had been top vote-getter in last two elections. MassResistance Missouri Chapter makes a difference.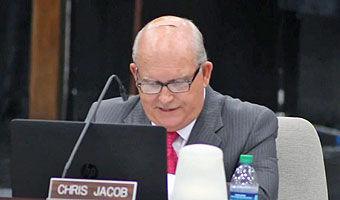 On April 4, Parkway School Board Chairman Chris Jacob was defeated for re-election, and lost his seat on the Board.
Protests continue in Taiwan as Supreme Court prepares to announce decision on Wednesday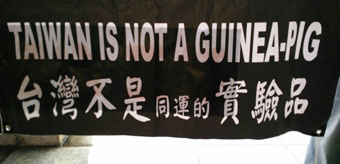 Pro-family protesters held this banner – and others – outside the Taiwanese Supreme Court building.
Town of Carlisle, MA, goes into hysteria over letter to the editor.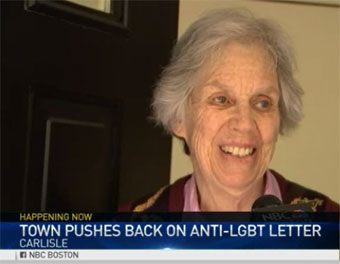 Sally wasn't intimidated by TV cameras - or anything else.
LGBT bill to allow children to "consent" to psychiatric therapy is stopped in Colorado Senate -- after hard-hitting pro-family testimony.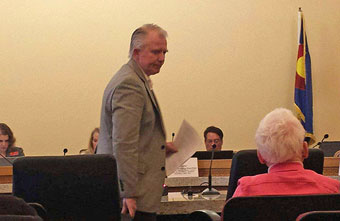 This MassResistance Colorado parent finished his unflinching testimony — and right afterwards the Senate Committee voted to defeat the bill!
Working to intimidate and silence parents and citizens. Also targeting hundreds of pro-family groups nationwide. Despicable tactics widely condemned across America.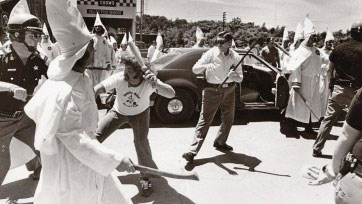 Using imagery to demonize. This old photo of the KKK is displayed where one clicks on the SPLC website to list pro-family groups such as Alliance Defending Freedom, Act for America, American Family Association, and Liberty Counsel.
What every pro-family activist needs to know. Heavyweight lineup of speakers on vital issues of the pro-family fight. Information you might not hear anywhere else.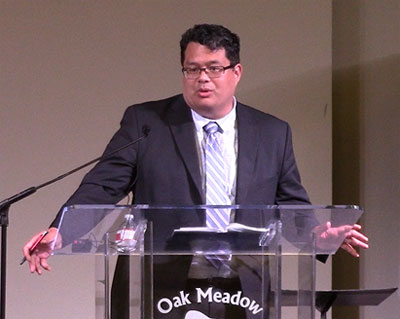 What every pro-family activist needs to know. Heavyweight lineup of speakers on vital issues of the pro-family fight. Information you might not hear anywhere else.
Outrageous bill passed House Committee in Colorado Legislature on Tuesday - despite strong testimony by Colorado MassResistance and others.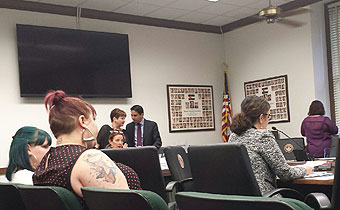 Bill's sponsor testifies at commmittee hearing as activists behind her prepare to testify.
Telling the truth without fear to overcome a wave of LGBT lies, emotion, and deception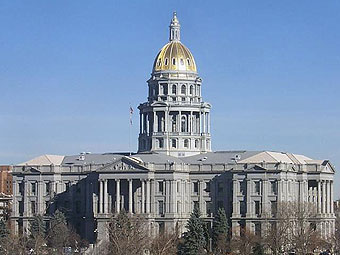 The bill would have denied parents the right to seek help for their children deal with unwanted homosexual and transgender issues.
Gives pro-family people from across the state the tools they need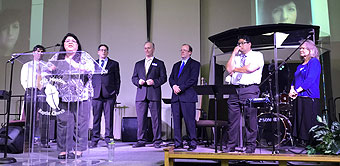 The speakers thoroughly educated the attendees about what's really happening -- and why! Several people told us they'd never been to anything like this before!
Stepping up campaign of harassment and intimidation to stop bill in legislature! "Transgender bathrooms" used for legitimizing the larger radical transgender agenda.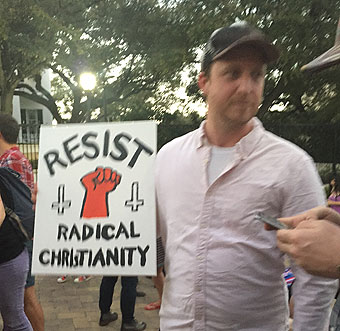 Part of bizarre LGBT protest outside of Texas Governor's residence.
They're fighting battles in local elementary schools and the State Legislature! Taking on the culture war.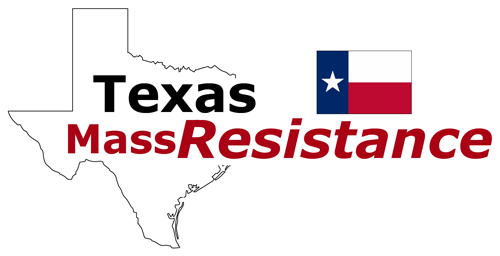 In the thick of Texas pro-family battles!
Understanding where the "culture war" stands in 2017, and what works in fighting back. Presentations by Dr. Paul Church and Brian Camenker.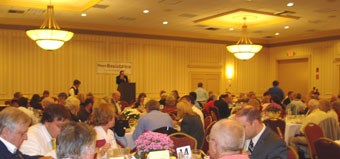 Don't miss it!
LGBT protesters would be bussed in from other states to disrupt event. Boston Police would not guarantee safety.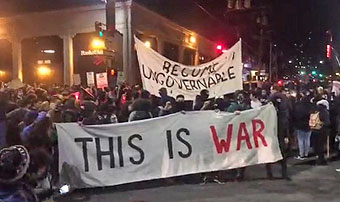 Left-wing mob rioting, burning, destroyng property in Berkeley, CA earlier this year. This is what was threatened unless the parade organizers gave in.

MassResistance affiliate in Nebraska - parents refuse to take "no" for an answer! State's largest newspaper devotes most of front page and several pages inide to controversy.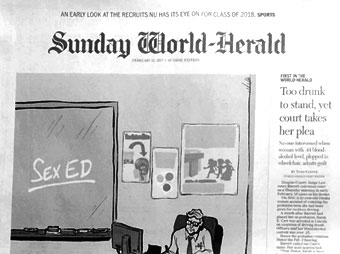 Article reveals that sex-ed program is more radical than most parents in Omaha realize!
To protect children and parents from radical agendas in the public schools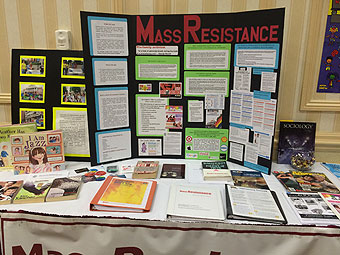 MassResistance has been going across the state educating people about the LGBT agenda in the schools and the issues these bills would protect parents from!
Commercial databases supply pornography to schools in US, Canada, South America, and even Eastern Europe. Colorado MassResistance mother exposed what's happening.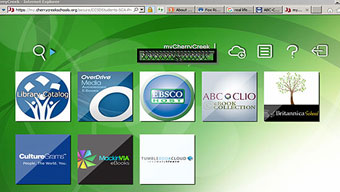 Middle school students see this opening screen. Several of these databases lead to hardcore pornography.

Over 600 pages of indispensable information to confront today's "culture war" challenges.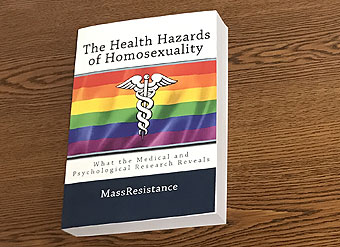 It's time for the facts to come to light!

Stood up against a flood of hate, anger, and vile emotion. SEE VIDEO.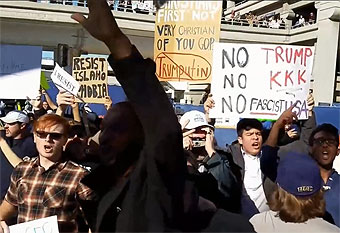 The rabid left-wing protesters crossed the street and rushed to surround our group. But we didn't back down!
Colorado middle school officials are lying to parents, the press, and citizens. Claiming it doesn't exist.

A child can start at his middle school home page and easily get to horrible x-rated pornography that the school district actually pays for!
School officials admit that x-rated pornography is there but refuse to remove it. It's been a nightmare for the parents. Here's what they've been going through.
Worse than anything we've ever seen. We've posted the downloads. Parents have formed Colorado MassResistance chapter and are fighting back.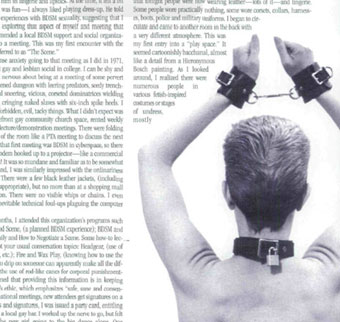 Sexual bondage for middle school children? This is just a sample of what parents found on their school's Internet portal.Is this where "comprehensive sex" is headed?
In Mass., MassResistance was a major force in keeping some truly horrible bills from being passed. Here's what happened ...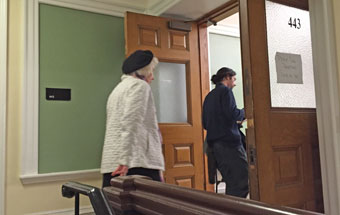 MassResistance activists enter a suite of State Reps' offices in the Massachusetts State House.
Taiwan's state-run news agency cites MassResistance helping educate people on dangers of "gay marriage" -- as bill passes initial hurdle in national legislature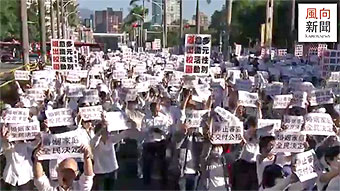 Protests against "gay marriage" filled the streets of Taipei, the capital of Taiwan. and other cities across the country on Dec. 3.
Our Nebraska MassResistance Affiliate
District-wide email attempts to "debunk parents examples. A disingenuous tactic being used by school officials across US.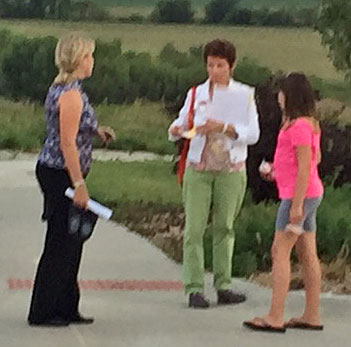 A parent volunteer (center) hands out literature exposing the school district's "comprehensive sex-ed" curriculum to a parent with her daughter across the street from a middle school in Omaha.
Our Nebraska MassResistance Affiliate
Catholic Archdiocese also officially joins the fight!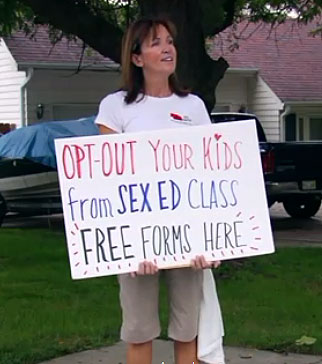 A mother holds a sign across the street from her local middle school.
There's a war brewing in schools across America. Parents are starting to fight back in greater numbers. Here's the background of what's been going on.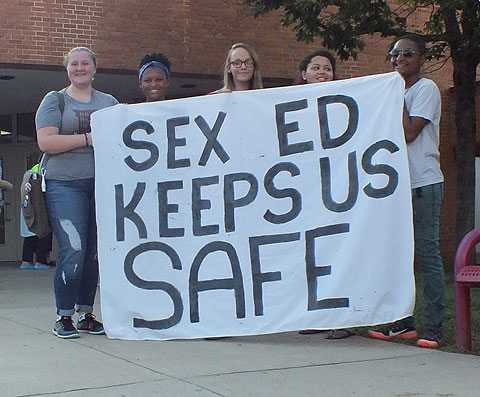 Planned Parenthood activists outside of a School Committee meeting in suburban St. Louis, to intimidate School Committee members and pro-family parents.

How the horrific "sex-ed" is able to happen. The progressives' mass-subjugation tactic for silencing people and destroying their will.
Christian teaching about LGBT behavior would become criminalized.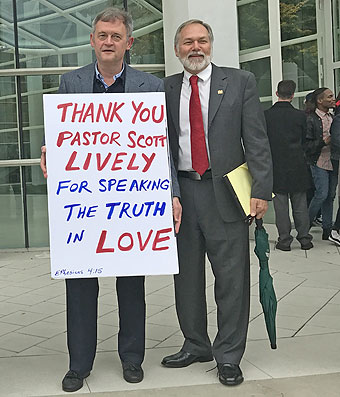 Pastor Scott Lively (right) with supporter outside the Federal Courthouse in Springfield just before his hearing.
Outrageous lawsuit by radical New York-based Soros-funded legal group against Christian pastor. Huge attack on free speech. This could affect the entire pro-family movement.
| | |
| --- | --- |
| Outside the Federal Courthouse in Springfield, MA on Wednesday, Nov. 9 | |
Young, conservative, intelligent, pro-family. Running a great campaign for Mass. State Senate against a horrible leftist incumbent. Snubbed by the RINO state GOP. Attacked in the media.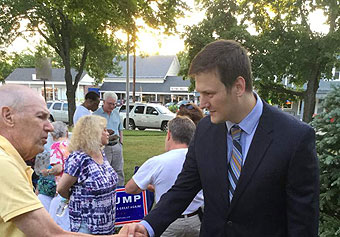 Mass. State Senate candidate Ted Busiek. This is what the future of the GOP should be!
Critical information for pro-family people, including powerful facts from ex-homosexuals. Cutting through the lies, deception, and mis-information in the popular culture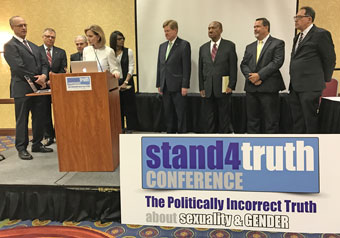 Experts, mental health professionals, activists, and religious leaders came from across America.
It's failed to pass numerous times in the National Parliament. But another fight is on the horizon.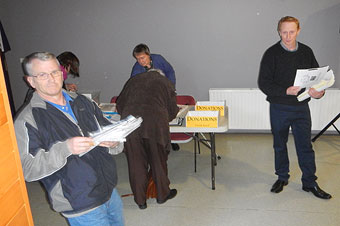 Passing out MassResistance booklet "What same-sex 'marriage' did to Massachusetts" at pro-family meeting in Australia last week.
Stand4Truth conference in Houston Oct. 28, 29. Countering the lies, misinformation, and propaganda. Top pro-family speakers from across America.


This conference is boldly defying the threats, fear, and intimidation from the LGBT movement.
But Missouri MassResistance parents weren't intimidated and and fought right back. But is this coming to your school?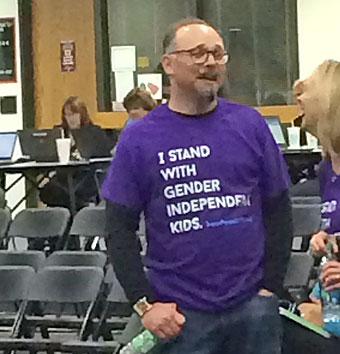 At school board meeting: Here's what parents are up against.
Confronting the international LGBT movement out to undermine the region's culture. First chapter outside the US!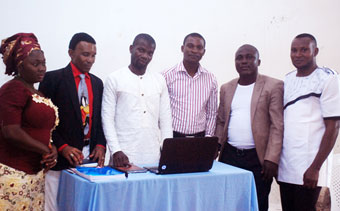 The core planning group of Nigeria MassResistance. They have big plans!
UPDATE: California Governor Jerry Brown signed Bill SB 1146 into law late Friday afternoon, just hours before the legal deadline. He also signed two terrible other anti-family bills that had been passed by the legislature. Full report coming up.
Making sure they know that a "Yes" vote was unacceptable. Governor has two more days to sign (or veto) SB 1146.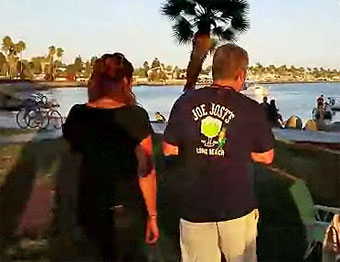 CA Assemblyman Patrick O'Donnell (right) and aide run away from constituents asking him about his vote on SB 1146. See video!
Demand end to "gay marriage," gay couples' adoption of children, and transgender agenda in schools.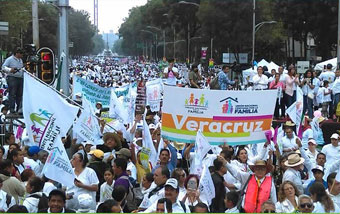 Mexican pro-family citizens are fearless -- unlike here in US.
Confronting Mexican president's effort to impose 'gay marriage' nationwide. Over a million turn out in 122 cities & towns. Another rally planned for Sept. 24.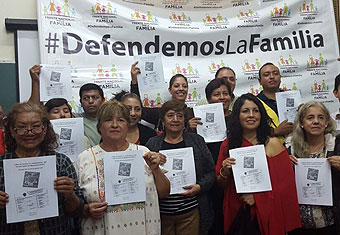 Pro-family activists in Mexico holding up copies of the Spanish version of MassResistance booklet on 'gay marriage'
Phyllis Schlafly, who passed away this week at age 92, created the modern pro-family movement and was its greatest activist. Her book changed the Republican party. But most pro-family conservatives today don't know much about her!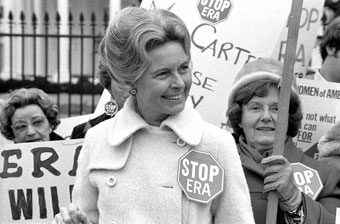 Outside of the White House during the Carter administration.
Demanding answers, not silence. Parents around the country: You can learn from this group!

Keeping up the pressure. Parents signing Freedom of Information Act paperwork and letters to their School Board members, before going off to Board members houses!
Our latest chapter! Radical sexuality being pushed on young children by politicians. An incredible group of parents who aren't backing down.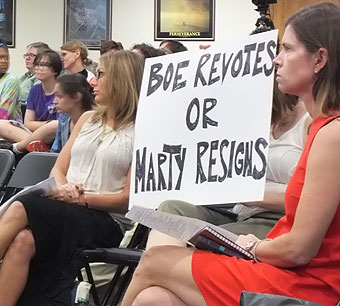 Keeping up the pressure. Parents at Aug. 3 School Board meeting making their demands pretty clear.