Observing Martin Luther King Day 2009 / 2019:
Martin Luther King's famous "Letter from the Birmingham Jail" resonates more than ever in today's struggles
Also important: The eight people to whom King was writing that famous letter — and why!
Originally posted January 19, 2009
In our current struggles how many times have you been told that we need to be "reasonable" or "polite" and not offend people? Or that you are being an "extremist" because you confront people (and public officials) with the truth? That you need to go through "proper channels" and not be disagreeable? Or that your church has decided it's best to avoid difficult social issues? Sadly, this isn't new.

As you know, Martin Luther King Day is being observed on Monday. We can learn a lot from King.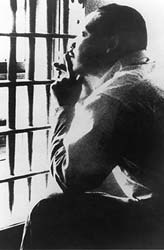 Martin Luther King in Birmingham jail, April 1963
Perhaps the most famous work by Martin Luther King, Jr. was his "Letter from the Birmingham Jail." It was written on April 16, 1963, while King was languishing in jail. He had been arrested while leading a campaign of public protests against racial discrimination. In this long letter (6,875 words) he discusses his philosophy, observations on society, and the reasons why he does what he does.

It's now considered a classic work. But it's less well-known - but no less interestng - specifically to whom Dr. King was writing the letter on that difficult day in 1963.

King wrote the letter as a reply to eight very prominent Alabama clergymen. They were in basic agreement with King that segregation should end. But four days earlier, on April 12, 1963, those eight clergymen published a strong statement in the local newspapers urging blacks to withdraw their support from King and his demonstrations. They accused King of being an outsider, of using "extreme measures" that incite "hatred and violence", that King's demonstrations are "unwise and untimely", and that the racial issues should instead be "properly pursued in the courts."
Public statement against ML King by eight Alabama clergymen, April 12, 1963
While in jail, King read their public statement in a newspaper and wrote his reply on scraps of paper he was able to gather.
Below are some passages from the Letter from the Birmingham Jail which we think you will find particularly enlightening:
"I am in Birmingham because injustice is here. Just as the prophets of the eighth century B.C. left their villages and carried their "thus saith the Lord" far beyond the boundaries of their home towns, and just as the Apostle Paul left his village of Tarsus and carried the gospel of Jesus Christ to the far corners of the Greco-Roman world, so I am compelled to carry the gospel of freedom beyond my own home town. Like Paul, I must constantly respond to the Macedonian call for aid."

"You may well ask: "Why direct action? Why sit-ins, marches and so forth? Isn't negotiation a better path?" You are quite right in calling for negotiation. Indeed, this is the very purpose of direct action. Nonviolent direct action seeks to create such a crisis and foster such a tension that a community which has constantly refused to negotiate is forced to confront the issue. It seeks so to dramatize the issue that it can no longer be ignored. My citing the creation of tension as part of the work of the nonviolent-resister may sound rather shocking. But I must confess that I am not afraid of the word "tension." I have earnestly opposed violent tension, but there is a type of constructive, nonviolent tension which is necessary for growth."

"How does one determine whether a law is just or unjust? A just law is a man-made code that squares with the moral law or the law of God. An unjust law is a code that is out of harmony with the moral law. To put it in the terms of St. Thomas Aquinas: An unjust law is a human law that is not rooted in eternal law and natural law."

"We should never forget that everything Adolf Hitler did in Germany was "legal" and everything the Hungarian freedom fighters did in Hungary was "illegal." It was "illegal" to aid and comfort a Jew in Hitler's Germany. Even so, I am sure that, had I lived in Germany at the time, I would have aided and comforted my Jewish brothers. If today I lived in a Communist country where certain principles dear to the Christian faith are suppressed, I would openly advocate disobeying that country's antireligious laws."

"I must confess that over the past few years I have been gravely disappointed with the white moderate. I have almost reached the regrettable conclusion that the Negro's great stumbling block in his stride toward freedom is not the White Citizen's Counciler or the Ku Klux Klanner, but the white moderate, who is more devoted to "order" than to justice; who prefers a negative peace which is the absence of tension to a positive peace which is the presence of justice; who constantly says: "I agree with you in the goal you seek, but I cannot agree with your methods of direct action"; who paternalistically believes he can set the timetable for another man's freedom; who lives by a mythical concept of time and who constantly advises the Negro to wait for a "more convenient season." Shallow understanding from people of good will is more frustrating than absolute misunderstanding from people of ill will. Lukewarm acceptance is much more bewildering than outright rejection."

"But though I was initially disappointed at being categorized as an extremist, as I continued to think about the matter I gradually gained a measure of satisfaction from the label. Was not Jesus an extremist for love: "Love your enemies, bless them that curse you, do good to them that hate you, and pray for them which despitefully use you, and persecute you." Was not Amos an extremist for justice: "Let justice roll down like waters and righteousness like an ever-flowing stream." Was not Paul an extremist for the Christian gospel: "I bear in my body the marks of the Lord Jesus." Was not Martin Luther an extremist: "Here I stand; I cannot do otherwise, so help me God." And John Bunyan: "I will stay in jail to the end of my days before I make a butchery of my conscience." And Abraham Lincoln: "This nation cannot survive half slave and half free." And Thomas Jefferson: "We hold these truths to be self-evident, that an men are created equal ..." So the question is not whether we will be extremists, but what kind of extremists we will be. Will we be extremists for hate or for love? Will we be extremist for the preservation of injustice or for the extension of justice? In that dramatic scene on Calvary's hill three men were crucified. We must never forget that all three were crucified for the same crime---the crime of extremism. Two were extremists for immorality, and thus fell below their environment. The other, Jesus Christ, was an extremist for love, truth and goodness, and thereby rose above his environment. Perhaps the South, the nation and the world are in dire need of creative extremists."


"I have been so greatly disappointed with the white church and its leadership . . . When I was suddenly catapulted into the leadership of the bus protest in Montgomery, Alabama, a few years ago, I felt we would be supported by the white church. I felt that the white ministers, priests and rabbis of the South would be among our strongest allies. Instead, some have been outright opponents, refusing to understand the freedom movement and misrepresenting its leaders; all too many others have been more cautious than courageous and have remained silent behind the anesthetizing security of stained-glass windows."

"In the midst of blatant injustices inflicted upon the Negro, I have watched white churchmen stand on the sideline and mouth pious irrelevancies and sanctimonious trivialities. In the midst of a mighty struggle to rid our nation of racial and economic injustice, I have heard many ministers say: "Those are social issues, with which the gospel has no real concern." And I have watched many churches commit themselves to a completely other worldly religion which makes a strange, un-Biblical distinction between body and soul, between the sacred and the secular."


"There was a time when the church was very powerful in the time when the early Christians rejoiced at being deemed worthy to suffer for what they believed. In those days the church was not merely a thermometer that recorded the ideas and principles of popular opinion; it was a thermostat that transformed the mores of society. Whenever the early Christians entered a town, the people in power became disturbed and immediately sought to convict the Christians for being "disturbers of the peace" and "outside agitators"' But the Christians pressed on, in the conviction that they were "a colony of heaven," called to obey God rather than man. Small in number, they were big in commitment. They were too God-intoxicated to be "astronomically intimidated." By their effort and example they brought an end to such ancient evils as infanticide and gladiatorial contests.

Things are different now. So often the contemporary church is a weak, ineffectual voice with an uncertain sound. So often it is an archdefender of the status quo. Far from being disturbed by the presence of the church, the power structure of the average community is consoled by the church's silent and often even vocal sanction of things as they are.

But the judgment of God is upon the church as never before. If today's church does not recapture the sacrificial spirit of the early church, it will lose its authenticity, forfeit the loyalty of millions, and be dismissed as an irrelevant social club with no meaning for the twentieth century. Every day I meet young people whose disappointment with the church has turned into outright disgust."

Martin Luther King
from Letter from the Birmingham Jail
April 16, 1963
Please help us continue to do our uncompromising work!
Our successes depend on people like you.
Your support will make the difference!