How medicine & therapy have become politicized by the LGBT movement
The Health Hazards of Homosexuality: What the Medical and Psychological Research Reveals by MassResistance (2017).
"Mr. Camenker and his research team are to be congratulated on this tour de force." – Michelle Cretalla, MD, President of American College of Pediatricians.
The terrible fraud of "transgender medicine"
Dr. Quentin Van Meter, a physician who was in the Johns Hopkins Univ. Hospital group where "transgender medicine" was developed, describes the lies, bad medicine, and fraud behind that movement. Quentin Van Meter, MD, FCP is a pediatric endocrinologist. He is a Fellow of the American College of Pediatricians and the American Association of Clinical Endocrinologists. 11/18/17
Dr. Paul Church attacked for telling the medical truth about homosexuality
MassResistance posts, 2015-2017. Dr. Paul Church, Boston area urologist, was expelled from Beth Israel Deaconess Medical Center and other Boston hospitals. His offense? Telling the truth about the health dangers of homosexuality and objecting to the hospital's support of Boston's "gay pride" event.

Video: Dr. Paul Church talks about "The great lies and the cost of telling the truth"
How the medical establishment purposely ignores the dangers of LGBT behavior and punishes those who speak out. At the MassResistance Banquet on 4/9/17.
MassResistance stops CA therapy ban bill from being re-submitted in 2019 session Constant, pressure on lawmaker forces him to abandon terrible bill. Caves in despite pressure from LGBT lobby. 3/28/19. And earlier reports, 12/23/18 and 8/31/18.
MassResistance activists stop LGBT anti-therapy bill in Massachusetts Legislature 8/2/18
Reparative therapy: How healing from homosexuality & change really works
David Pickup, Licensed Marriage and Family Therapist, gives a fascinating talk. What most people don't know about homosexuality. 11/18/17
MassResistance Colorado helps stop horrible anti-therapy bill in legislature
Telling the truth without fear to overcome a wave of LGBT lies, emotion, and deception. 4/17/17
Handouts at Massachusetts Youth Pride Event - May 2016
Helping kids become "transgender". Deadly diseases versus "safer" gay sex.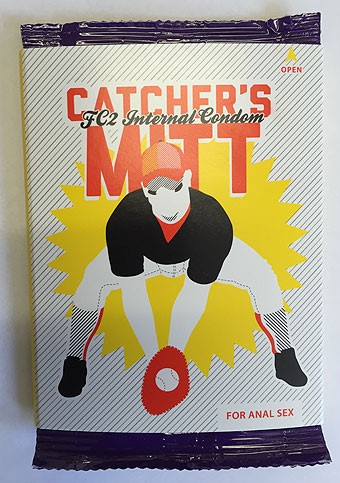 Pro-family medical experts & ex-gays refute LGBT lobby at Mass. State House public hearing on "anti-therapy" bill
The homosexual movement's state-by-state crusade to pass laws banning youth with sexual orientation problems from seeking help by therapists, came to a head in the Massachusetts State House at a public hearing. 8/28/15; updated 1/17/16

Video: Respecting Our Children's Voices - Testimony Against H97 (Mass. bill to ban SOGI therapy for minors).
While the homosexual/transgender lied, counselors, psychologists, ex-gays, and MassResistance members told the committee the truth. 1/15/16
The Truth About Reparative Therapy & Psychological Research
Licensed therapists Robert Vazzo and David Pickup explain how reparative therapy works wonders to heal people who want help. Explores the abuse, addictions, psychological issues, personality disorders, and unmet needs behind homosexual behavior. This is what the LGBT movement is trying to stamp out. 10/26/15
The Truth About Censored Medical Evidence
John Harmer JD, Keith Vennum MD, and Paul Church MD. Diseases associated with LGBT behaviors. Examination of the homosexual movement's issues with pornography and its push to lower the age of consent. How big business is pushing sexuality on children. The junk science being fed to people, and the medical profession's aggressive refusal to recognize true science over political correctness. 10/26/15
Bill in Massachusetts to ban counseling on homosexuality for youth -- derailed after MassResistance lobbying push. National effort by homosexual movement to ban counseling. Bills filed in state legislatures across America. 6/3/14
Radical ay activists converge at public hearing in Mass. State House -- pushing bill to ban counseling on homosexuality for youth. Part of national push in state legislatures 8/12/13
How government traps young men in the transgender subculture: NIH Study of "transgender" male youth
How state and federal money is "empowering" troubled young men in dangerous lives as "transgender" - prostitution and HIV. 7/24/13
See our recent reports, Sex Ed & Porn in Schools & Libraries.
All Planned-Parenthood style sex ed is medical malpractice. All information given to young children and teens normalizing LGBT sexuality (or telling children they can change their "gender") is medical malpractice.
Here is just one example of a handout used at a Massachusetts youth event (supported by the state):
Graphic homosexual sex flier given to kids at state-supported "youth pride" event 6/3/11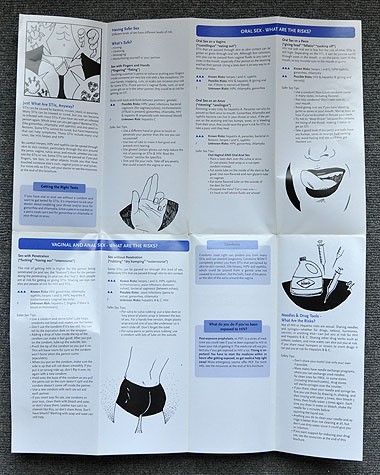 OUR CLASSIC ARCHIVED REPORTS:
Boston Children's Hospital ghoulish "gender change" clinic for children
MassResistance reports from 2005-2011. This was also the model clinic for the rest of the country. There are now over 40 clinics following Dr. Norman Spack's procedures, destroying children's bodies with puberty blockers, cross-sex hormones, and harmful counseling.
The "Little Black Book"
Tax-funded booklet leading teen males into dangerous "gay" lifestyle. Handed out at GLSEN-Boston conference attended by teens and adults. 2005
The infamous "Fistgate" Report - GLSEN Boston 2000
We broke the story back in 2000. Kevin Jennings, GLSEN founder, was there. Massachusetts Dept. of Education employees led the workshop on "gay" and lesbian sexual practices. Students as young as 12 were given oral instruction on "fisting". We were there to record it. Graphic sex handouts. (Report updated Oct. 2012.)
Please help us continue to do our uncompromising work!
Your support will make the difference!