Fiery Christian protest outside Canada police station as pro-family activist Bill Whatcott was taken into custody on national "hate speech" charge. See videos!
More passionate than anything we've seen in the US!
To be a REAL Christian in Canada, you've got to have guts.
June 27, 2018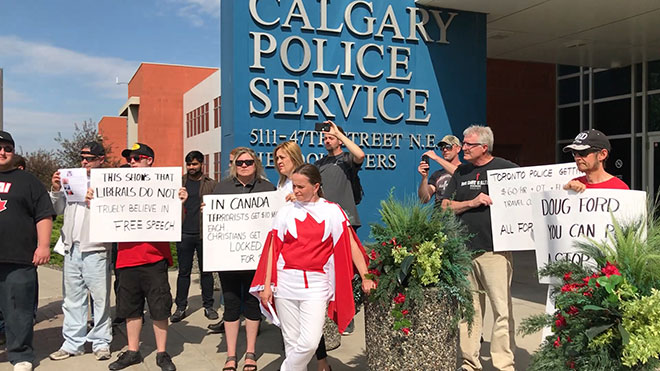 On Friday, June 22, there was a fiery Christian protest outside the police station in Calgary, Alberta, as pro-family activist Bill Whatcott was taken into custody. As we reported last week, the Canadian government suddenly issued a national criminal arrest warrant for Whatcott, a long-time pro-family activist and MassResistance Canadian ally – for a supposed "hate speech" crime that happened two years ago in Toronto.
Whatcott's crime? Passing out flyers at the 2016 Toronto Gay Pride Parade spreading the Gospel and warning about the medical dangers of homosexuality.
In Canada, issuing a national arrest warrant is usually done for a serious crime like murder, not passing out flyers. But this is how totalitarian the Canadian government has become on the issue of homosexuality — and the oppression of Christians who don't agree.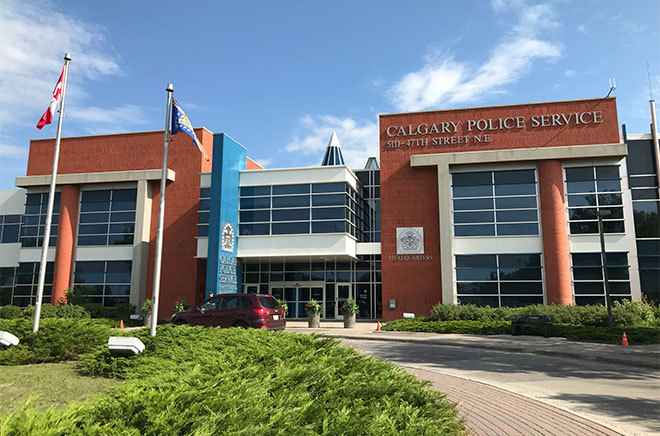 Whatcott had publicly announced he would turn himself in to the Calgary police on that day. Accompanying him were about two dozen Christian protesters including several pastors. Most of the protesters were from local Calgary churches; a few came from as far away as Edmonton.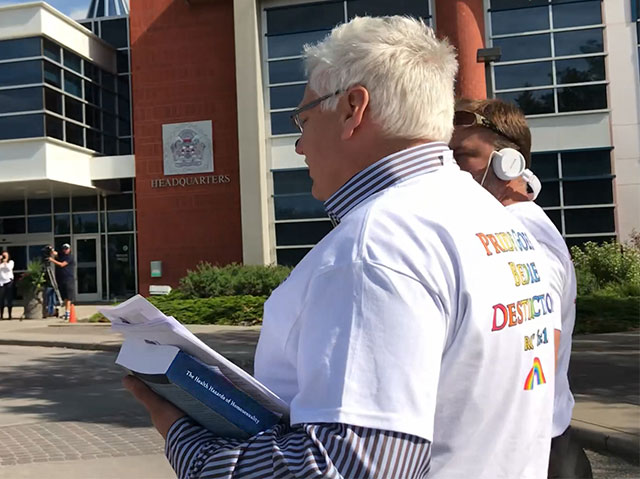 MassResistance was on the scene to provide exclusive coverage!
The Christians sent a forceful message to the police – and to the always-biased media that was there to cover it. They also issued a strong rebuke to the cowardly Christian churches across Canada who are afraid to fight for their rights.
Protesting the police state – as Whatcott is taken into custody
Led by Pastor Art Pawlowski who grew up in Communist-ruled Poland, these people were vocal and angry about the outrageous charges against Whatcott and the totalitarian, anti-Christian, police-state path that Canada is on. They fearlessly rebuked the police to their face. These demonstrators really understand the seriousness of the apparent death of free speech in Canada.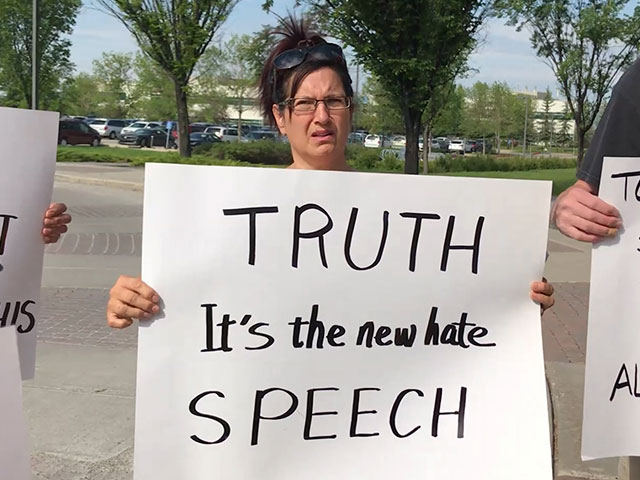 It was unlike any Christian-led protest we've seen in the US, which tend to be overly respectful of authority and relatively polite.
Pastor rebukes the "shameful, cowardly" Christian churches in Canada
After Bill was taken into the police station, Pastor Art Pawlowski spoke out very bluntly about the shameful, state of the Canadian churches – "You're a bunch of cowards!" – which only aids our oppressors. These serious Christians don't pull any punches. It's the kind of talk a lot of Americans have also been waiting for.
Dishing it out to the biased mainstream media there
Since this was a national story, several mainstream media outlets, including at least one TV station, sent reporters to cover this. The media has been hostile to Christians in general – and Bill Whatcott in particular. These Christian activists took the opportunity to dish it right back to them. So we have to include a clip of that!
Here are some of the media reports from that day:
CTV News Calgary, Anti-gay activist wanted in Toronto turns himself over to authorities in Calgary, 6/22/18

Toronto Star, As anti-LGBTQ activist wanted for promotion of hatred surrenders to police, he says he regrets nothing, 6/22/18

National Post, Anti-gay activist wanted in Toronto on hate charge surrenders to Calgary police,
Also a good article on this:
Catholic Insight, Dissolution of a Nation, 6/22/18
Seeing this in context – the absurdity of the criminal charge against Whatcott
It's quite interesting to see this all in context, which makes Bill's arrest and criminal charges seem even more absurd.
Bill's group registered as marchers for the 2016 Toronto Gay Pride Parade under the name "The Gay Zombies Cannabis Consumers Association." They dressed in colorful green costumes and passed out packets that contained their flyer with a Christian message and medical information.
But the parade marchers immediately ahead of them were a group of completely naked men. In Canada, public nudity is a crime. But the police and Canadian government officials simply ignored that. It's another reason why Christians are so outraged.
Update on Bill Whatcott after arrest
Bill was kept in a Calgary jail from Friday until Sunday and then flown to Toronto, where he was kept in jail until Monday afternoon. During that time he was treated very badly. (At one point he was in the hospital but was denied the medicine prescribed to him). We've interviewed Bill on this and will have a detailed report in our next post.
On Monday afternoon, June 25, he had a bail hearing and was represented by a local Christian attorney. After a dispute about the terms of release, the judge finally let him out, though Bill considers it to be excessive bail. His pre-trial hearing is scheduled for July 23.
TV News report: Global Toronto TV News on Whatcott's court appearance 6-26-18
ALSO COMING UP: Exclusive MassResistance interview with Bill Whatcott just before he turned himself into the police on June 22.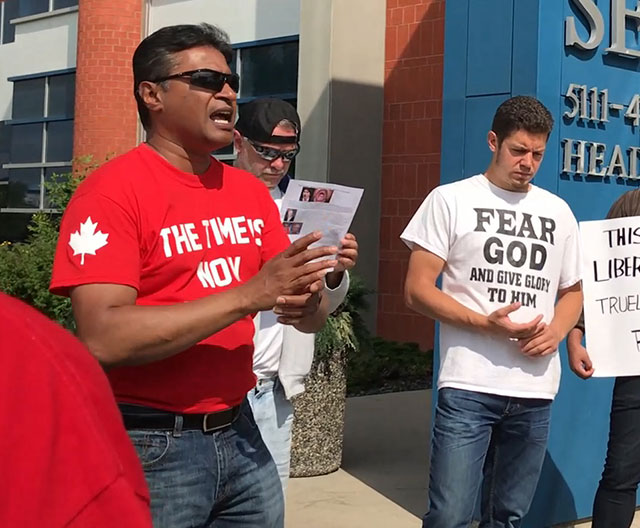 Please help us continue to do our uncompromising work!
Our successes depend on people like you.
Your support will make the difference!