Bill Whatcott's "crime": Passing out flyers (with Bible verses) that tell the truth!
Informing the electorate during an election campaign
December 16, 2018
Bill Whatcott was brought before the British Columbia Human Rights Tribunal on "hate speech" charges for passing out flyers during the 2017 Provincial election campaign for Parliament in the electoral district of Vancouver False Creek.
It was an act which would be perfectly legal just a few miles south in the United States (and most other places).
The subject of Whatcott's flyers was Ronan Oger, a biological male transgender who was running for Parliament under the female name Morgane Oger. (Up until five years ago, Oger had a wife and two kids.) Besides self-identifying as transgender, Oger was no ordinary candidate. He was vice-president of BC's far-left New Democratic Party (NDP).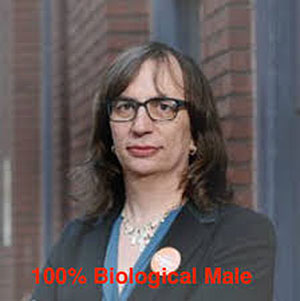 But more prominently, Oger is a major "transgender" activist both locally and nationally. He worked hard to push the LGBT agenda into the BC public schools. He lobbied the BC Human Rights Tribunal for sex references to be removed from birth certificates. He was one of the major activists who pushed the BC Provincial and Canadian federal government to add "gender identity or expression" (transgenderism) as an official "protected characteristic" which may not be discriminated against.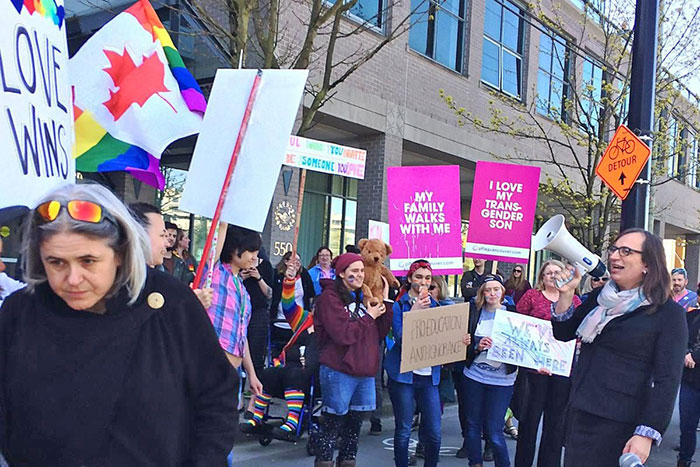 As Bill Whatcott observes,
Mr. Oger has a long and highly public record of wanting to silence the opinions of those who do not subscribe to his flawed gender ideology. Mr. Oger is also on public record for advocating for the removal of children from homes where the parents disagree with their children being indoctrinated to embrace the LGBT agenda.
In the weeks prior to the election, Bill passed out over 1,000 flyers in the district, often going door to door, to inform the electorate about Mr. Oger.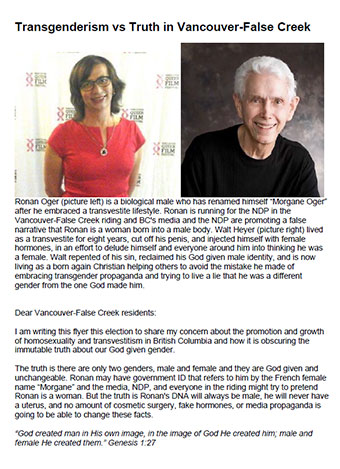 The flyers were titled 'Transgenderism vs. Truth in Vancouver - False Creek." They described Oger as a "biological male who has renamed himself" and said that "BC's media and the NDP are promoting a false narrative that Ronan is a woman born into a male body."
The flyers also expressed concern about the "promotion and growth of homosexuality and transvestitism in British Columbia" and included several Bible verses (which Oger's allies found particularly offensive). 
Oger lost the campaign to the incumbent, a former Vancouver mayor, by 451 votes. Oger and his attorney admitted that no one can know whether the flyers hurt or helped his vote tally, as his supporters made a big deal of the "discriminatory" flyer and Oger may even have gained sympathy votes as a result.
Oger subsequently filed a human rights complaint against Whatcott, alleging that the flyers had exposed Oger to "discrimination, hatred and contempt" under Section 7 of the BC Human Rights Code.
Please help us continue to do our uncompromising work!
Our successes depend on people like you.
Your support will make the difference!