Rob Hoogland reaches plea agreement with B.C. Attorney General in "criminal contempt of court" case. Will be freed from jail on April 13!
He will plead guilty and accept 18 months probation – must remain silent on this issue.
A big win! Clearly, the huge public outcry had an effect.
April 8, 2021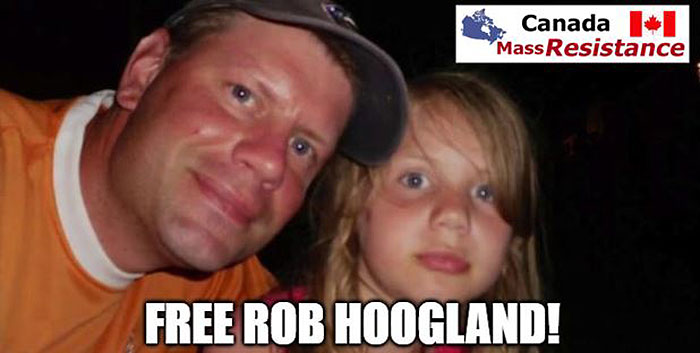 The March 16 jailing of British Columbia father Rob Hoogland for breaking a "gag order" sent shock waves across North America. The government had tried to prevent him from publicly opposing the gruesome "sex-change" procedures on his daughter. There was considerable outrage and derision directed at the judge and the prosecutor reported in a wide range of media. 
As MassResistance reported, Justice Michael Tammen was extremely hostile toward Hoogland and his lawyer, Carey Linde. at Hoogland's March 16-19 bail hearing.
Tammen not only angrily ordered Hoogland to remain in jail without bail while awaiting his April 13-16 trial for criminally breaking the gag order. But Tammen also made it clear that he already considered Hoogland guilty and would likely give him a stiff prison sentence (up to five years).
But it appears that the widespread revulsion against this bizarre and abhorrent legal action finally took effect. On Thursday morning, April 8, Attorney Linde announced in a press release that the Crown (i.e., the District Attorney) had agreed to a plea bargain:
CD [i.e., Rob Hoogland] will admit to willfully breaching certain orders of the Supreme Court. He will accept 18 months probation and one month for time spent in custody.
These terms are subject to the discretion of the judge. If they are granted, CD should be released from custody later on that day.
This is a very positive development! Rob did break the gag order. But he will not be in jail, fined, or otherwise punished. His 18-month probation means that he cannot break the gag order again during that time. The important thing at this point is that Rob has said everything he needs to say – and we have a great deal of that safely posted on MassResistance.
As we reported, during Justice Tammen's closing remarks on March 19, he was extremely irate that MassResistance had posted court papers, hospital communications, and other documents that proved Hoogland's claims about what was being done to his daughter – and the government was trying to hide. We also posted video interviews with Rob where he described in detail what had happened. Since our website is outside of the jurisdiction of the Canadian courts, Judge Tammen had threatened that unless we took all that material down, he would take retribution on Rob and give him a harsher sentence.
A number of Canadian activists pleaded with us to take that material down and placate the judge. But we knew that would be a terrible move. By our leaving it all up, the judge got the message that this case would only continue to erupt as long as he kept Rob incarcerated.
And there was more coming! This weekend we had planned to begin a large "Free Rob Hoogland" push. Activists in British Columbia, Ontario, and Alberta were ready to put up stickers (see photo above) in key downtown areas and do mass leafletting. Trust us – there was no problem finding people to participate! Rather than keep quiet, there would be more noise! (We've called that off with this new announcement.)
But our reports on the Hoogland case had continued to reverberate around the world. Recently it was covered on a Chinese website. And yesterday we were contacted by a Russian news agency about it. This scandal is definitely not going to fade away. But by keeping Rob in jail, it would have gotten much worse for the B.C. courts and government.
A lot of people are upset, and that won't likely change! As Linde's press release mentions:
At the bail hearing last month a non-Canadian resident attending by phone illegally recorded the entire hearing and posted it on a Canadian website. This fact has been brought to the attention of our judge.
We're not aware who that was. (It wasn't MassResistance, although we did attend the hearing via phone.) Apparently it has been taken down.
At the April 13 court date, one point of disagreement still remains. Linde wants his client to be allowed to have no criminal record if he successfully obeys the terms of the probation. The Crown is against that. The judge will have to decide. We're not holding our breath on that one.
We're thrilled that Rob Hoogland will be free. His story will not die! The hideous transgender attack on vulnerable children will continue to be confronted.
Please help us continue to do our uncompromising work!
Our successes depend on people like you.
Your support will make the difference!