The "Save James" bills – to ban "sex-change" procedures on children – moving forward in Texas Legislature. But facing roadblocks by aggressive corporate and LGBT opposition.
Intense testimony by both sides at public hearings. LGBT movement & "Big Pharma" targeting legislators. (A big money-maker for clinics and pharma industry.)
Texas MassResistance fighting hard in the State House – and across the state.
April 22, 2021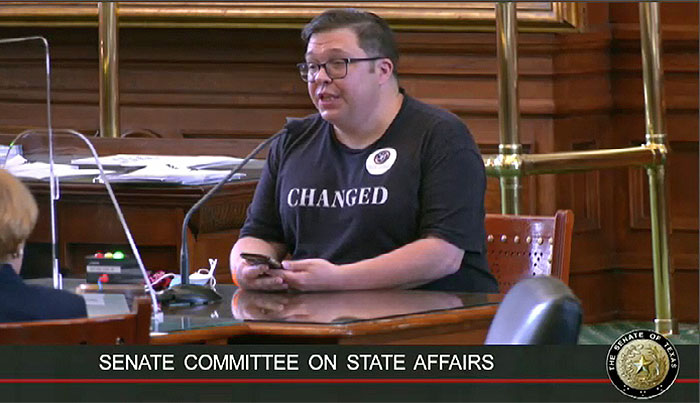 Texas MassResistance parents and activists have had initial victories this past week in the Texas Legislature. They are working hard to get legislation passed to protect children from puberty blockers, cross-sex hormones, bodily mutilation, and other experimental "sex-change" procedures – now being done to many children. These treatments will leave these children facing sterilization and ongoing health problems.
There are three bills currently in play. They are dubbed the "Save James" legislation, for James Younger, a 10-year-old boy whom a judge has ordered to go through "sex-change" treatments against his father's wishes. The father, Jeff Younger, has been very outspoken against what is happening to his son, and MassResistance is helping him.
SB 1646 (Senate) is the main bill. It amends the criminal code definition of child abuse to include administering or supplying of puberty blockers or cross-sex hormones to a child, or performing surgery on a child, for the purpose of gender transitioning or gender reassignment.
SB 1311 (Senate) and HB 1399 (House) are also important. These are nearly identical bills that would prohibit professional liability insurance from covering medical procedures and treatments for gender dysphoria, gender transitioning, or gender reassignment for children.
After a huge lobbying battle and hours of emotional testimony, all of three bills passed out of their committees this week. But there are still some political hurdles to cross before they can move forward.
But it wasn't easy. Left-wing corporations and the LGBT movement have been fighting aggressively and viciously to stop them. There is a LOT of money to be made in children's "sex-change" procedures (and resulting ongoing care). And the LGBT movement sees children as critical to their transgender agenda.
Stopping something as gruesome as this should be a no-brainer. Unfortunately, even in "red" Texas, there are enough RINOs and sell-outs in the GOP (which controls the Legislature) who buckle to the pressure. But MassResistance parents and activists across Texas have been fighting hard to counter their attacks and bring this legislation across the finish line into law.
The battle in the Senate State Affairs Committee
On April 12, the Texas Senate Committee on State Affairs held a public hearing on the two Senate bills: SB 1646 and SB 1311. It was a long, grueling day; the battle was brought out into the open.
Texas MassResistance felt it was critical to educate the committee on the facts. We brought in an excellent medical expert, a former transgender, and others with shocking personal experience in this horrible issue. They really hit the nail on the head about how terribly dangerous this is for children. Some other Texas pro-family groups also brought in people to testify.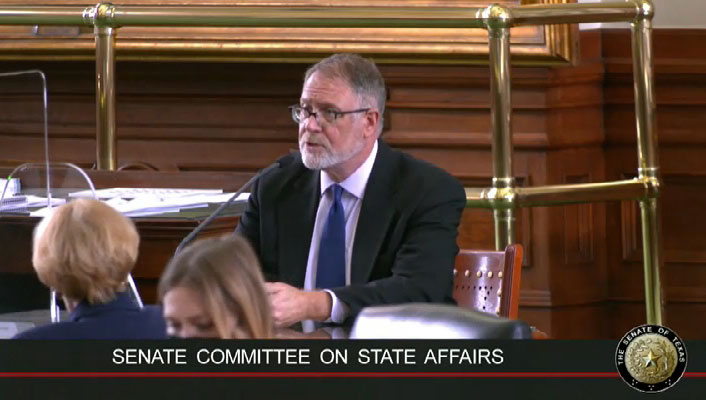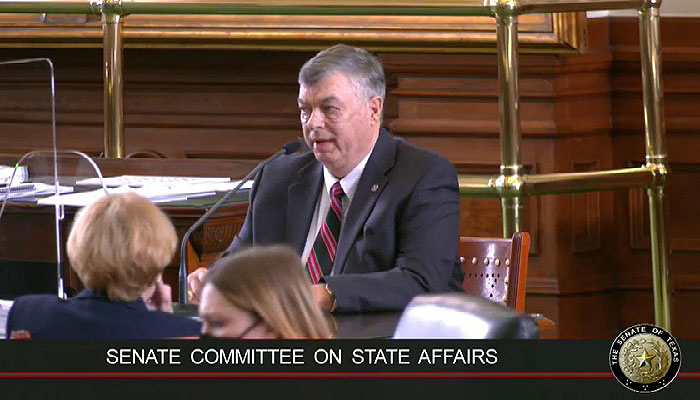 But the opposition organized a massive attack on the bills. "Big Pharma" and the LGBT lobby brought in dozens of activists, cross-dressers, parents of "transgenders," and their own "experts" with well-crafted and emotional testimony against these bills. Much of the testimony was hysterical ranting about how "transgenders' lives will be at risk" if these "harmful and discriminatory bans on best-practice medical care" pass, and that these bills are "extreme attacks on transgender people."
It was chilling to hear how passionately they insisted that these procedures must be done on children, and how they deceitfully twisted the truth (and outright lied) in their arguments. They even brought in young boys dressed completely as girls to "testify" to the Committee.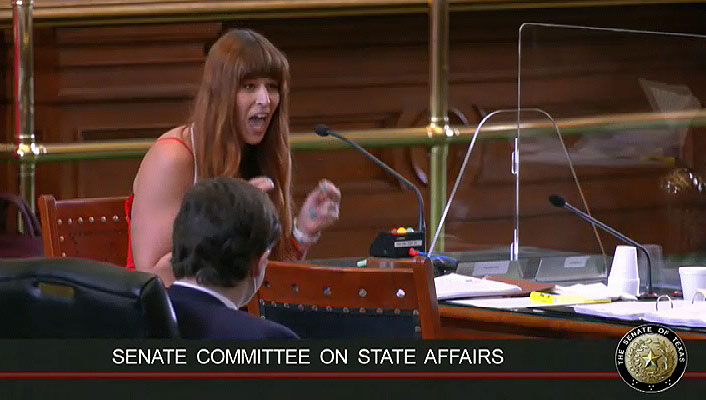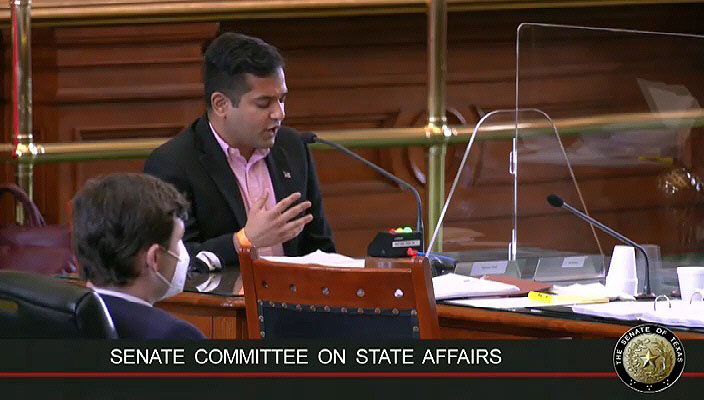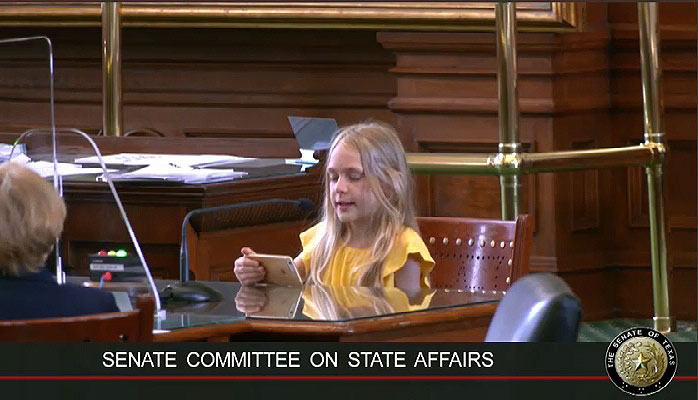 A different fight in the House committee
The House bill, HB 1399 had its public hearing in the Texas House Committee on Public Health on April 14. There was much of the same testimony from both sides as the Senate bills.
But the biggest fear was that the Committee chairman, Rep. Stephanie Klick, would stall the bill and keep it from leaving the committee. Rep. Klick's district is solidly conservative, and she is personally very conservative. But there were signs that she was succumbing to pressure from the RINOs in the legislature and the business community. Word came out that she didn't want to "traumatize trans people" by allowing the bill to move forward. What nonsense!
Texas MassResistance activist (and our former state director) Robert Oscar Lopez, a constituent of Rep. Klick, got right to work. He wrote a hard-hitting article in The Stream, "Will One Powerful RINO Keep Chemical Castration of Teens Legal in Texas?" Texas MassResistance made sure people in the district and across Texas saw it and contacted her. Rep. Klick got the message – and the bill passed out of committee.
Another of our activists, Ellie Klipp, got to testify and presented the committee with a shocking document summarizing the dangers of "transitioning" children.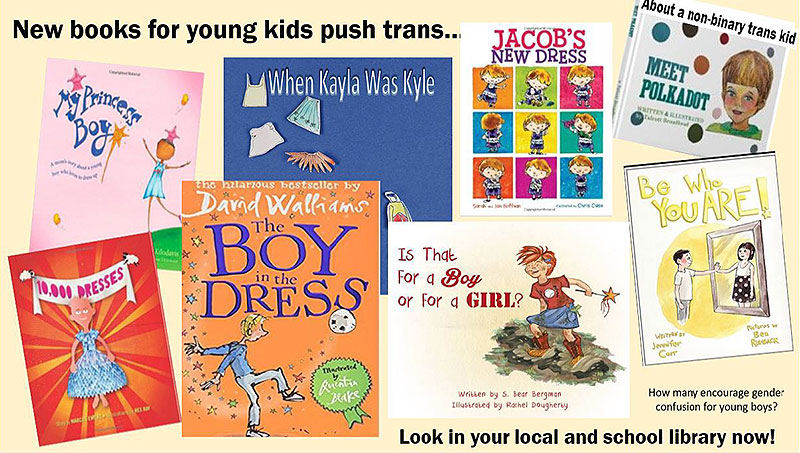 A brutal lobbying campaign by the opposition
It's become clear that a lot of money and energy is being brought in by Big Pharma and the LGBT movement to kill these bills. Even though they've lost the first battle, they are not fading away. Bringing people from across the state to come to Austin and testify before the committees was just the beginning. Here are some other things we've witnessed:
Pressure on legislators from their big business donors. Several legislators have told us that their "big business" donors have been pressuring them to vote against these bills. We, in turn, are pressuring them to do the right thing and protect vulnerable children.
Appeal from "healthcare providers" in Texas. Texas Legislators have received letters like this which purport to be from "over 1,000 healthcare providers from across Texas to vehemently oppose SB 1646." They argue that these hideous sex-change procedures on children constitute "necessary care" that will result in "healthy lives."
Rally in the Capitol for "transgender rights." On April 14, transgender activists from across the state held a loud rally in the Capitol rotunda for "transgender rights." The purpose was to send a message to the legislators about "unity" against the bills.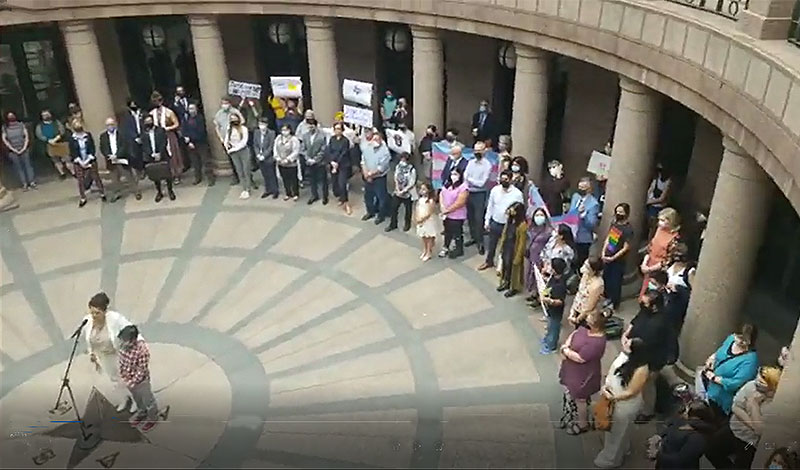 Social media campaign to intimidate Texas MassResistance. LGBT activists conducted a rather ugly social media campaign attempting to intimidate Texas MassResistance from lobbying for the bills.
Media blackout of pro-family position. Not surprisingly, the mainstream media in Texas, and even nationally, has engaged in a veritable lobbying campaign to stop the bills, completely excluding any discussion of the reasons the bills are needed.
Texas Monthly, "Fighting for Trans Kids in the Texas Legislature."

CBS News, "Tearful mother urges Texas lawmakers not to pass bill that would classify supporting transgender children as abuse."
But Texas MassResistance fought back
Texas MassResistance wasn't afraid to tell the sordid truth about this agenda everywhere in the State House, especially to legislators who look like they're caving to the pressure! And we had our own social media campaign, vigorously supporting the bills. We're telling it like it is, in venues across Texas.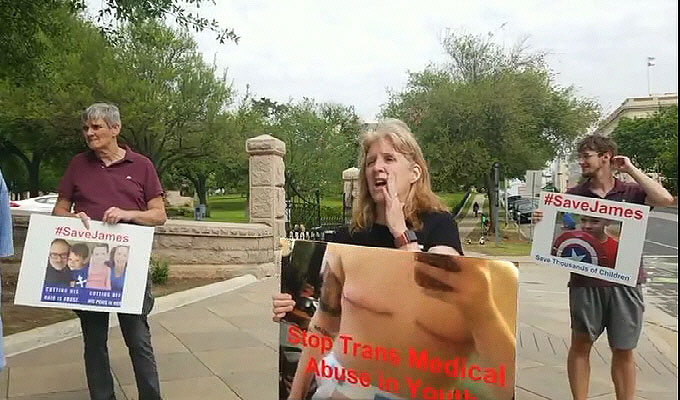 The big fight now: Getting these bills to a floor vote!
To get these bills passed into law, there are still challenges with the RINOs and sell-outs who don't want to confront the evil that is happening in their state.
When bills pass out of the appropriate House or Senate committee, the logical next step is for them to go to a vote in the full House or Senate. And time is critical, because the legislative Session ends in May.
But in Texas, bills go to a kind of limbo area where a decision is made if and when they will go to the floor for a vote. This is done for political reasons. Committee members can please their constituents by passing a bill they don't really like, and then the bill mysteriously doesn't get to the floor in time for the end of the session.
In the Texas Senate, bills are put on an "intent list" and the decision is made by the Lt. Governor, Dan Patrick, who is also the President of the Senate. That is where bills SB1641 and SB1311 are now.
In the Texas House, bills go to the Calendar Committee. That is where bill HB 1399 is now.
Final thoughts
It is truly mind-numbing how much money and effort is being mobilized to keep in place the right of the LGBT movement and the "medical" industry to allow the mutilating and sterilizing of children in "sex-change" procedures. It is disgraceful how many legislators know what is right but are caving in to pressure. It is also disheartening how many good people are shying away from this fight because they don't want to be called names, etc., by the Left.
But you just have to look into the eyes of the people who have been horribly affected by this to know that the fight is worth it. Texas MassResistance will be in this to the end!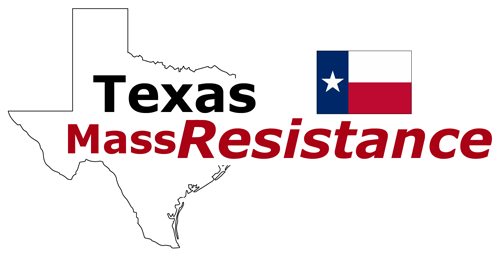 Please help us continue to do our uncompromising work!
Our successes depend on people like you.
Your support will make the difference!