Victory: Canadian father Rob Hoogland set free by appeals court after conviction for breaking "gag order" on daughter's "transgender" medical treatments
Pro-LGBT trial judge rebuked for imposing unreasonably harsh punishments: fine and imprisonment.
During trial, MassResistance attacked by judge and prosecution for posting incriminating documents and interviews.
August 31, 2023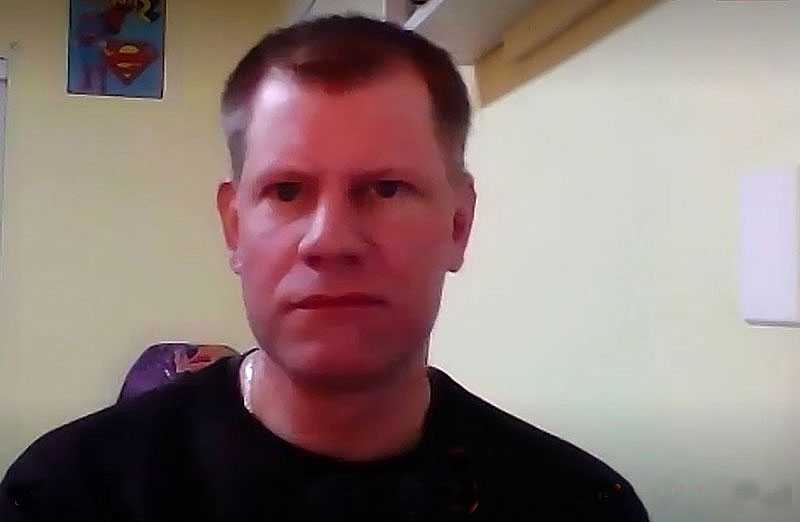 Canadian father Rob Hoogland has been living a nightmare. In 2019 a British Columbia court ruled that his 14-year-old daughter who believes she is "transgender" must be allowed to go through irreversible medical procedures to "change" her sex to a boy – despite her father's fierce objections.
The LGBT movement in Canada had funded over two dozen lawyers to "represent" the daughter against her father. As a result, the Court ruled that this young girl is "mature" enough to overrule her father's wishes, and that these treatments are "in her best interest." The judges have arbitrarily taken the decision out of the parents' hands completely.
Rob and the girl's mother had divorced a few years prior. According to Rob, at first the mother agreed to the treatments, but later she changed her mind but LGBT activists pressured her not to contest them. However, Rob is not intimidated.
A severe gag order was imposed. The court has banned all public reporting of information connected to this. The father has been prohibited from discussing the case with media (or anyone else who might publish his remarks). He is banned from mentioning his own name, his daughter's name, or the names of any of the doctors involved with the medical procedures. Anyone in Canada who has posted articles or videos that disobey that ban has been ordered to remove them under threat of arrest.
Even U.S. based conservative groups have been afraid to disobey the ban. But MassResistance has not been afraid to expose the ghastly details of what had happened to Rob's daughter. We have also covered his fight against the Canadian government over this: See all our MassResistance reports on Rob Hoogland HERE.
Rob reaches out to MassResistance in 2020
In February 2020, several weeks after the court ruling, Rob reached out to MassResistance. He immediately agreed to an interview – where he described the details of what had happened to his daughter, and his court appearances. It was a violation of the gag order, but he felt strongly that the world needs to know. He was thrilled that MassResistance was unafraid to help him. (Below the interview, we also included the video report made by Canadians that had been forced to be taken down.)
Rob continued to give interviews to MassResistance and others, and supplied MassResistance with documents and other details, which we posted.
For breaking gag order: Rob is imprisoned, tried in court, convicted
Normally when someone defies a gag order (known as a "conduct order") it is handled by local authorities. But because the Canadian government has become obsessed with enforcing the LGBT agenda (and punishing public dissent of it), the Attorney General of British Columbia directly took the case.
In November, 2020, the AG filed charges of "multiple criminal violations of the conduct order" against Rob. A four-day trial was set to begin on April 12, 2021.
Imprisoned before the trial. In March 2021, the AG further charged that Rob has set up a funding page with some "banned" information, and Rob was jailed – and bail was denied. During that bail hearing, the judge went on a tirade against MassResistance.
The trial. Throughout the trial in April, the judge was clearly biased and behaved very harshly against Rob and his lawyer. (At one point a plea bargain was almost reached, but it was mishandled by his lawyer and was subsequently rejected by the judge.) At the end, the judge found Rob guilty and gave another angry outburst against MassResistance. The next day, April 16, the judge sentenced Rob to six months imprisonment and a fine of $30,000 to be paid to the Ronald McDonald House (which supports "trans" kids).
An appeal is filed – and Rob is allowed out on bail.
Two weeks after the trial, while Rob was imprisoned, his friends and family persuaded a top criminal-appeal lawyer to take the case. On April 30 the lawyer successfully filed an appeal application.  Rob's appeal hearing, was set for November 1, 2022. Rob was released on $1,000 bail until the hearing.
In all, Rob had been jailed for 69 days. This included 2 weeks in a horrible maximum-security prison where he was in solitary confinement for 23 hours a day!
During this whole ordeal, Rob ended up changing lawyers several times. They were either not representing him properly, or wanted more money than Rob could afford. It added to the difficulty and stress.
The appeals hearing – and the victory!
The weekend before the November 1, 2022 appeal hearing, the Attorney General's office submitted a 64-page "Memorandum and Materials on Bail Renewal Application" document challenging Rob's continued release on bail. Almost half of it referenced MassResistance or quoted from the MassResistance website.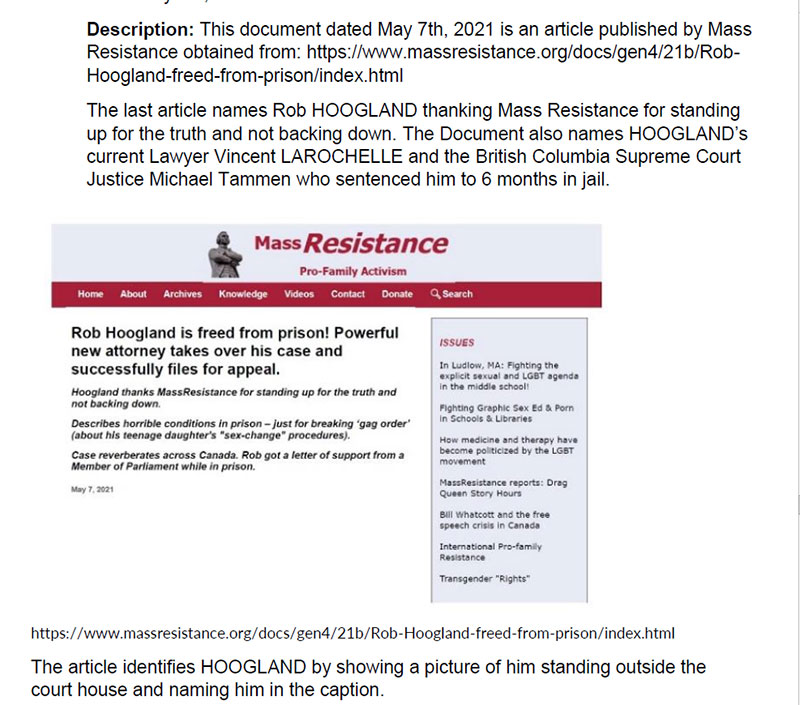 Rob attended the hearing without a lawyer. His criminal-appeal lawyer had withdrawn from the case, apparently over payment issues.
The appeals judge, surprisingly, became angry with the Attorney General's prosecutor for presenting such a long document that neither Rob nor the judge had the time to properly read before the hearing. So the hearing was postponed until May 31, 2023. The judge also ordered the prosecutor: "You are now going to go out and the government will pay for a good criminal defense attorney for Mr. Hoogland."
The prosecutor repeated his denunciation of MassResistance, and asked that the British Columbia court demand that the United States act to suppress the reports published by MassResistance. The judge dismissed the idea, and reminded the AG that Canadian courts have no jurisdiction over other countries and their citizens.
The hearing finally takes place. The appellate hearing to overturn the sentence took place on May 31 as scheduled. On that day, Rob's new lawyers by all accounts did an excellent job of defending him.
The appellate court's decision. On August 3, 2023, it was announced that the decision would be handed down the following week, on August 9. Rob was fully expecting the worst – to be imprisoned for the rest of his six-month sentence. He had gotten his personal affairs in order. That day Rob came and surrendered to the local sheriff, where he waited in a jail cell during the hearing.
The court ruled in Rob's favor - and sharply criticized the trial judge! The court stipulated:
Rob should not have a criminal record over this, because the plea deal (that the judge rejected) should have been accepted.
The plea deal would have been for 45 days in jail, which Rob has already served. So he should be free to go.
The trial judge's punishment of a 6-month jail sentence and $30,000 fine were excessive for that offense. Both were rescinded.
A great victory! Rob is a free man! It is particularly noteworthy that the three appellate justices in this case were all appointed by Liberal prime ministers. Would such a thing happen in the U.S.?
But there is still legal work to do. The "gag order" is still being imposed on him. At this point his story is out, so he is being careful not to violate it further. And he is considering suing for damages for the excessive number of days he was incarcerated.
Final thoughts
Rob continues to credit MassResistance for having the courage to expose to the world what the Canadian government has been doing to his daughter. People across Canada (and the U.S.) were able to find out. It's likely that a degree of public pressure and outrage about this had a positive effect on this outcome.
Please help us continue to do our uncompromising work!
Our successes depend on people like you.
Your support will make the difference!