Transgender bill in Chilean Parliament targeting children gets modified, then delayed after massive protests organized by Chile MassResistance!
LGBT lobby is livid.
The fight continues! Bill can still be stopped.
September 8, 2018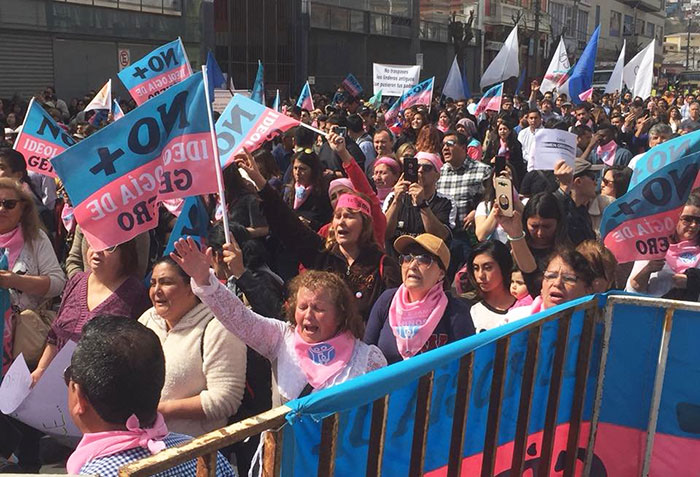 On Sept. 4 the LGBT lobby in Chile had another setback in their effort to push their agenda through the Parliament. It happened as Chile MassResistance activists organized massive protests that day - both in the streets of Valparaiso, the capital, and inside the Parliament building - fighting a destructive transgender bill targeting vulnerable children.
This followed Chile MassResistance protests in Santiago and across the country during the previous week.
That day, the bill was being taken up in the Senate. Apparently as a result of the protests, the Senate, with support now fading, passed a weaker version of the bill. The House of Deputies then postponed their vote until Sept. 12, as their leadership realized they no longer had the votes to pass it right away (but did not want to give up). Chile MassResistance will not give up, either!

This was the second delay. As we reported earlier, the Chilean Senate was originally set to vote on the bill on August 22. But after Chile MassResistance organized 50 activists to come to the Senate chambers to show their outrage, they postponed the vote until Sept. 4.
Here's what happened on Sept. 4
This was an outstanding effort that shook the Parliament! Nothing like this had been seen before from pro-family activists. Below is the exclusive report from one of our Chile MassResistance activists:
---
The Senate Votes on Gender Identity
Sept. 4, 2018
By Silva F. Danilo
Member of Chilean Chapter of MassResistance
There was anxiety in Valparaiso, the Chilean city where the House of Parliament's building is located. The Senate's upcoming vote on the so called "gender identity" bill got lots of attention from the media, the LGBTIQ lobby.
But it also got thousands of citizens involved – mostly Christian Evangelicals but also other religious believers and civil groups. These included a lot of Chilean activists organizations like: Confamilia, Padres Ciudadanos, Verdad y Familia, Cristianos por Cristo y por Chile, Con Mis Hijos no Te metas, and OLC DefiendoChile. It also included other organizations and Christian Evangelical Churches which have been working for the defense of pro-family values, and now with the support of Mass Resistance Chile.
The bill was scheduled to be taken up from 4 pm until 8 pm. But in the morning the activity started: First, around 11:00 some 3,000 people gathered for an Evangelical service and speeches from some leaders near Parliament's building – to praise The Lord Jesus and to say out loud "No more gender ideology, protect children," and calling for the Senators to reject the bill.
After that our group began another actions; we delivered more than 20.000 signed letters to Congressmen explaining our reasons to say NO to the bill. Those letters were collected through a week-long campaign led by Padres Ciudadanos, all over the country in common effort with volunteers from different churches as well as Chile MassResistance.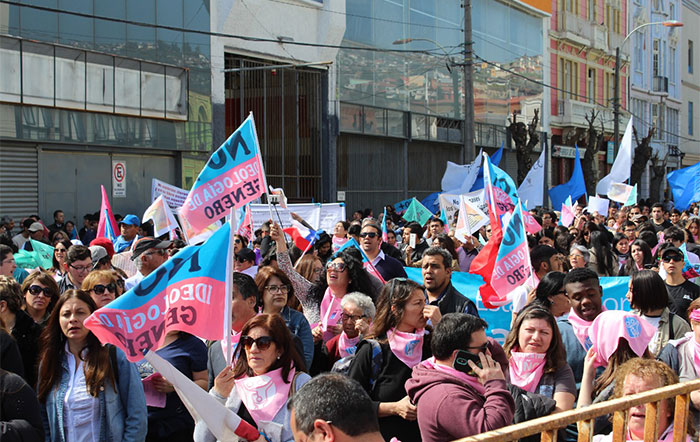 At first we were not allowed by police to get inside the building with the boxes representing the more than 20,000 physical letters. But we received some "divine" help from some of the Evangelical Deputies to get the boxes inside, and also our light blue and pink flags representing the perfect relationship of man and woman made by God.
Once inside, we spoke with the media as we delivered the boxes. After receiving the boxes, a Christian member Parliament gave us an encouraging speech. This was followed by other encouraging speeches from Pia Adriazola, the wife of the formal presidential candidate Mr. Jose Antonio Kast, and then a powerful speech from Cecilia Freire, head of Chile MassResistance, standing in front of our group that came from Santiago to Valparaíso, 1.5 hours away. They were waving flags, and we got attention from the media and members of parliament -- our effort bore fruit!.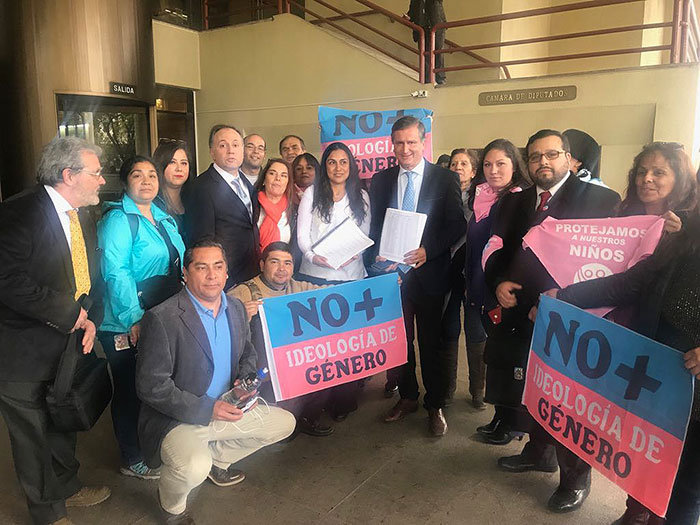 So, then later we were ready to get inside the Senate chamber. There are 2 separate places for visitors (like a mini arena stadium) to watch the voting. That process seems very slow and bureaucratic to us. But the LGBTIQ  lobby and their allies who were there understand it, and of course, they always have the media supporting them.  However, we outnumbered them, even though some of our Pastors and friends could not get inside because of lack of space.
The battle begins...
Around 4:00 pm. Senators entered and took their places. In the spectators' area, more Lefties came and were in front of us and at the center-right behind us, out of our line of sight. But once again we were much more numerous than the LGBTIQ aggressive activists, and we were much stronger in our souls than them because of God's support.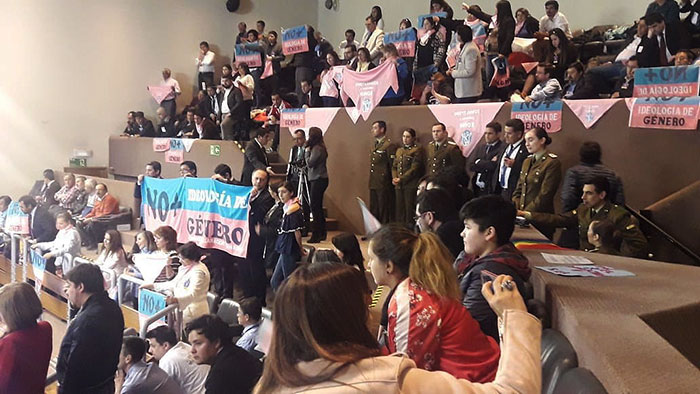 Voting starts -- with the 4/7 Constitutional requirement.
Since this bill is one that aggressively affects children, there is a constitutional requirement that 4/7 of the Senator's votes are required to approve the bill. That means 25 votes. And the bill is voted in a split way: the part affecting children under 14 years old in one vote, and from 14 and older in another vote. First some Senators gave their speeches to explain their vote. At the same time discreet negotiations were taking place in the middle, because the leftist majority was not really sure to have the 25 to approve both votes.
After 11 or 12 Senators gave their speeches everything started to go faster. One Senator said "Please let's continue tomorrow." But their negotiations seemed to be finished, so the President of Senate decided to have the votes, and no more speeches. The result of 1st vote (for 14 years old and older) was 26 votes. This was a success for the LGBTIQ lobby, and the lefties near us jumped up to celebrate, scream and bully us loudly.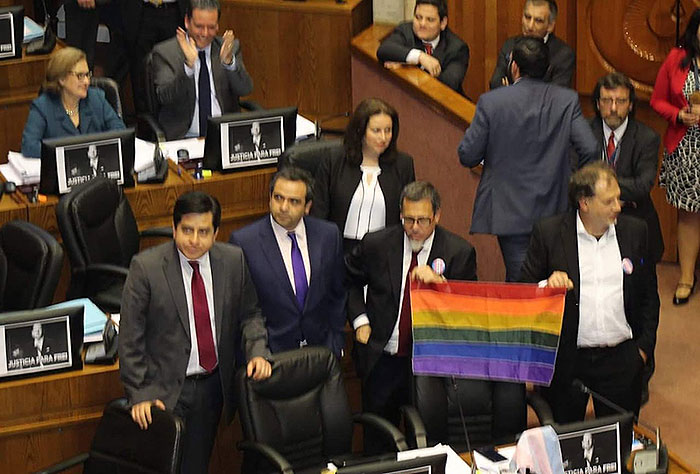 But then the second vote (for children under 14 years old) resulted in just 22 votes! Not enough to include small children! This time the LGBTIQ lobby was very, very angry. It is our triumph from God! We can preserve and protect small children from gender ideology! Is is our time to thank God and think that despite the big machine against us, despite all the censorship, despite all the indoctrination from the media and the full support from President Piñera who betrayed us (since in his campaign he said he is against this ideology), despite all their weapons they could not get our small children. God once again protected us!
Postponed in House of Deputies – the fight continues!
After all of this, it was time for the fight in the second house of Parliament. The 155 Deputies must vote on the bill just approved by the Senate. They just can vote to affect children 14 years old and older, not under 14. But the House of Deputies' leaders decided to postpone the vote (which would have been on Sept. 5) because they suspected they did not have the 4/7 of the votes to approve the bill. So we are still in the fight, begging God and making all our effort to stop this! The next vote should be Wednesday, Sept. 12. And we are going to be there fighting in the name of our Lord Jesus Christ!
---
This horrific bill can still be stopped completely in the House of Deputies on Sept. 12. The thought of even children 14 and older being turned over to ghoulish doctors for harmful opposite-sex hormones, sterilization, and needless surgeries is simply too terrible to allow!
Our Chile MassResistance activists and their allies will be there in full force! This is how activism needs to happen! We will have a full report.
Please help us continue to do our uncompromising work!
Our successes depend on people like you.
Your support will make the difference!