New MassResistance Chapter opens in Arizona. A formerly conservative state being hit by LGBT movement.
Local groups call for help from MassResistance!
Meeting "attacked" by Antifa
January 9, 2019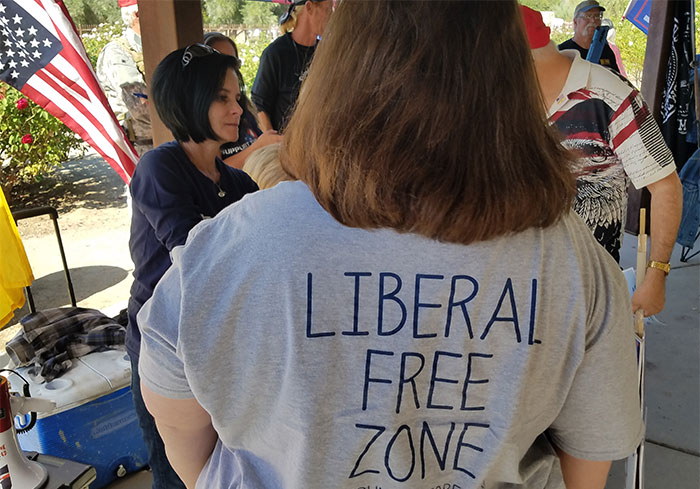 Despite its historic conservatism (including former US Senator Barry Goldwater), progressive activists – and the LGBT movement in particular – have been making inroads into the Grand Canyon state. Migration from more liberal states and the targeted infiltration of left-wing groups have begun to radically change Arizona, greatly upsetting long-time residents who are feeling helpless in the face of this LGBT agenda.
A scary slide to the left
Pro-family Arizona residents have watched things change for the worse around them. A few examples:
People were shocked in 2014 when Republican Governor Jan Brewer vetoed a religious liberty exemption bill – passed by the Legislature – which would have protected businesses from catering to LGBT groups and individuals if it violated their conscience. The veto followed a well-orchestrated campaign by the national LGBT movement and their corporate allies, and was encouraged by both of Arizona's GOP US Senators, McCain and Flake.
Public schools have become inundated with Planned Parenthood-style comprehensive sex-ed and radical LGBT programs, particularly in the Phoenix metropolitan area.
The LGBT movement has begun its push to ban wanted therapy on LGBT issues. In August 2017, the Board of Supervisors in Pima County (which includes Tucson) passed an ordinance which outlawed reparative therapy for minors. Other areas will likely be targeted soon, followed by a push in the Legislature for a statewide ban.
Extremist left-wing groups like Antifa and Black Lives Matter have come to the state and have begun their attempts to terrorize conservatives.
This past year Arizona elected a radical, openly bisexual woman to the US Senate.
A call for help from MassResistance
Over the past five years, MassResistance has connected with a growing contingent of pro-family activists in the state. Our recent victories in stopping the proposed therapy bans in California and Massachusetts – as well as our work helping parents confront the radical programs in schools and "Drag Queen Story Hour" events targeting children – got people's attention in Arizona. They realized they needed help.
Among those Arizona groups is the Patriot Movement AZ (PMAZ), which is committed to educating and activating voters across Arizona (and in other states). They have confronted left-wing agendas on a number of issues, from Planned Parenthood to illegal immigration. Now, seeing what's happening, they wanted help dealing with the LGBT "culture war" on their children.
On Nov. 10, Patriot Movement AZ hosted a rally in a park in Tucson. Members from across the state – and even other states – were there.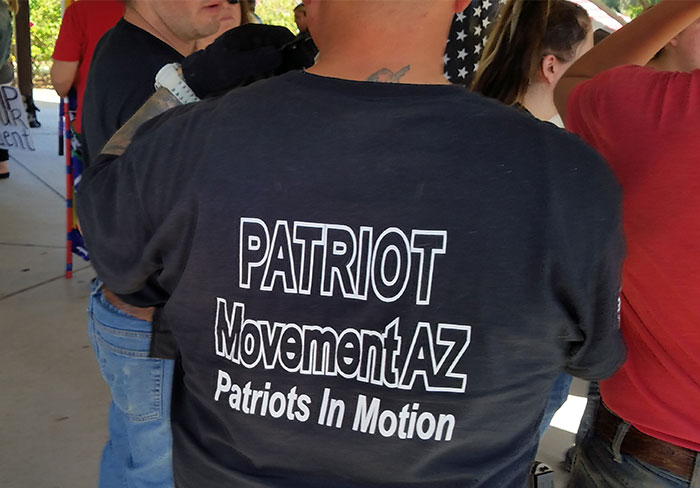 They invited Arthur Schaper, our national organizing director, to come and speak and work with them and his other Arizona contacts. They also invited Genevieve Peters, the outstanding mother who confronted the Drag Queen Story Hour event in Riverside, CA, to talk to them about that threat.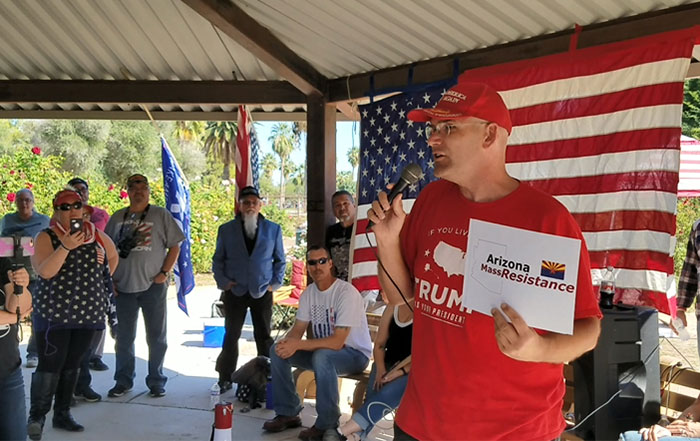 It was a very successful event! Arthur and Genevieve really opened their eyes to the various ways the LGBT movement is now targeting even the youngest children, and how it gets into the schools and libraries. But more important, they talked about how to organize and confront it.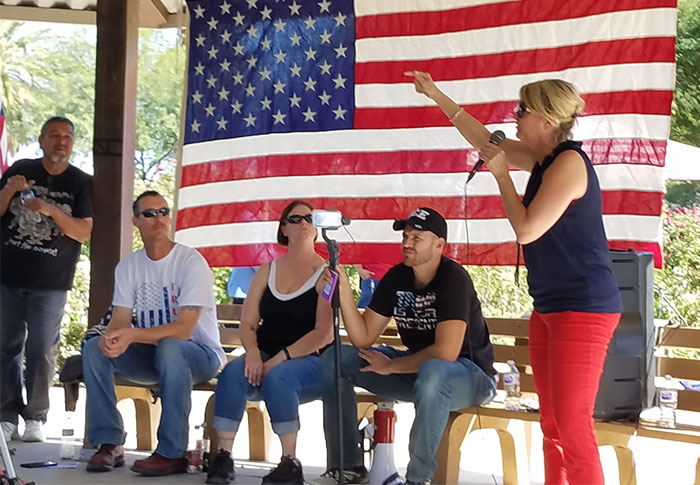 The Patriot Movement people were extremely eager to work with MassResistance. Many of them immediately joined our Arizona MassResistance chapter.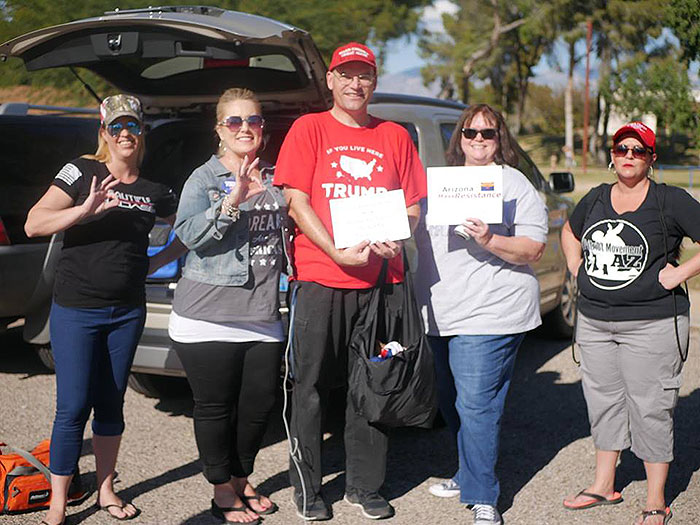 Patriot meeting "attacked" by rabid Antifa activists
This was one of the strangest encounters we can remember.
As they increasingly do across America, when Antifa activists heard about the conservative event being held, their people from across the region converged on the park, hoping to shut down the event. Antifa not only disrupts conservative gatherings, they regularly come armed with clubs to beat up people. They want to inflict as much fear and terror as possible.
But with Patriot Movement AZ, there was just one problem. Regarding firearms, Arizona is an open-carry, no-permit-needed state. And the Patriots were, shall we say, pretty well armed. So when the Antifa thugs showed up, the local police kept them outside the park gates for THEIR protection! There wasn't much they could do from out there but look foolish.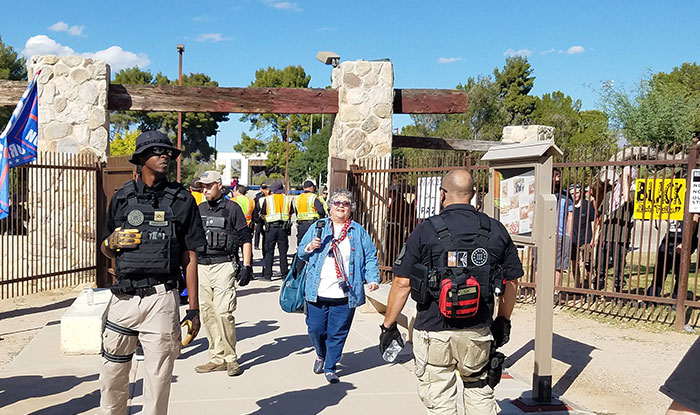 And what a lunatic bunch they were! Their leader was a purported "transgender Muslim" – a man dressed as a Muslim woman. According to reports, he actually tried to sue a local mosque (initially using CAIR attorneys) to force them to let him worship with the women.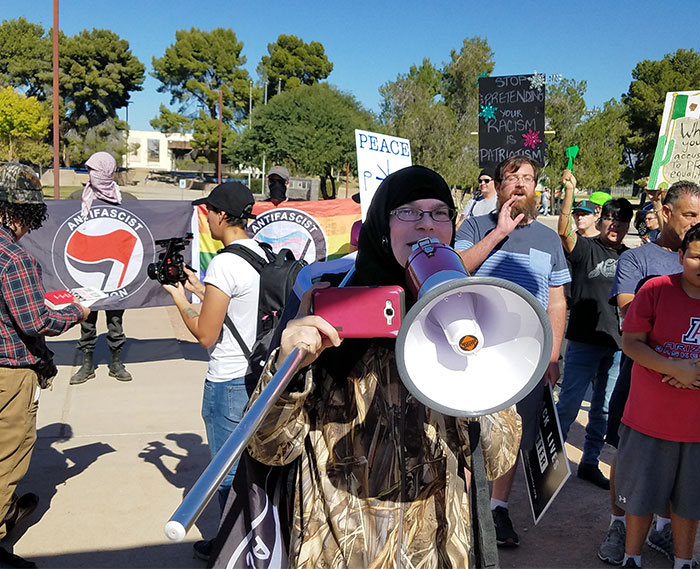 At one point, Arthur Shaper went outside the gates to discuss "gender identity" issues with this person. It added to an already interesting afternoon. After a while, the rest of the hapless Antifa bunch basically gave up and left.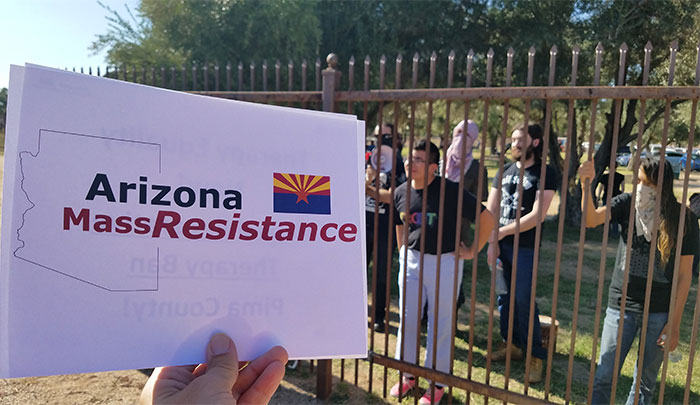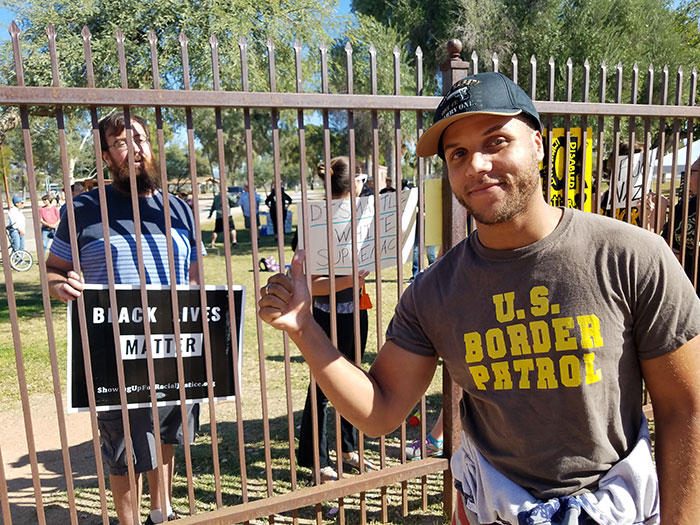 Meeting with Alliance Defending Freedom representatives
Also that week, Arthur met with a few members of the Phoenix-area Alliance Defending Freedom — the large national pro-bono conservative law firm. The couple told Arthur that there are plenty of opportunities for pro-family victories in Arizona and that they are eager to work with MassResistance. They want to get things done in their home state, they said!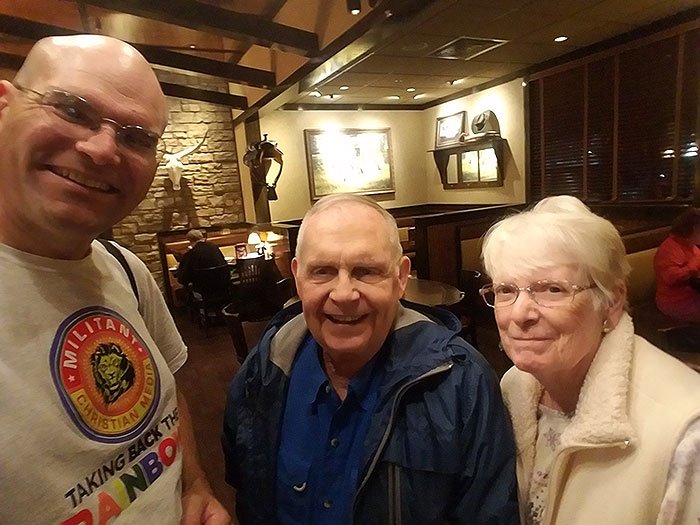 Starting up the activism
MassResistance is not just interested in stopping the progress of the left. We want to take back ground!
Therefore, Arthur and the Arizona MassResistance activists are working toward pressuring the Pima County Board of Supervisors to repeal their horrible ban on therapy for children. There are already (at least) two members of that Board who didn't support it.  The first goal is to get something on their agenda, possibly this month.
As a symbolic kickoff to this effort, Arthur and some other activists took a side trip to the Pima County Civic Center in Tucson, where the Board meets.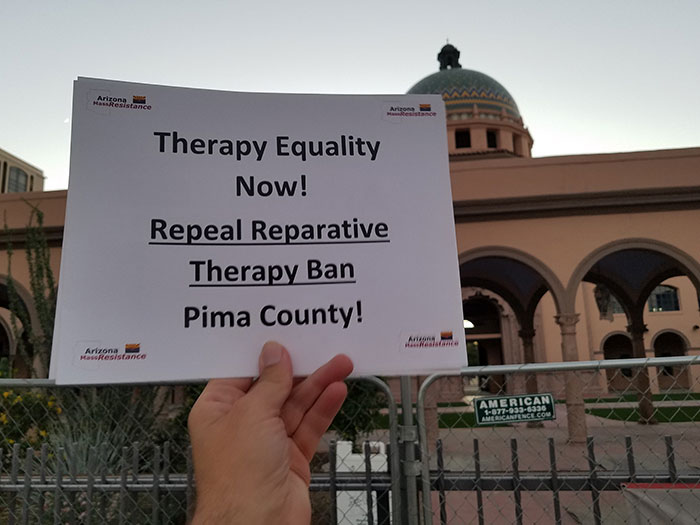 The Arizona Chapter of MassResistance is off and running!
Please help us continue to do our uncompromising work!
Our successes depend on people like you.
Your support will make the difference!