Fox News quickly removes attack on MassResistance from article – after huge outrage
Other media, including National Public Radio stations, have also backed down after MassResistance confronted them.
We must fight back against mainstream media that use the discredited Southern Poverty Law Center to smear conservatives!
March 14, 2023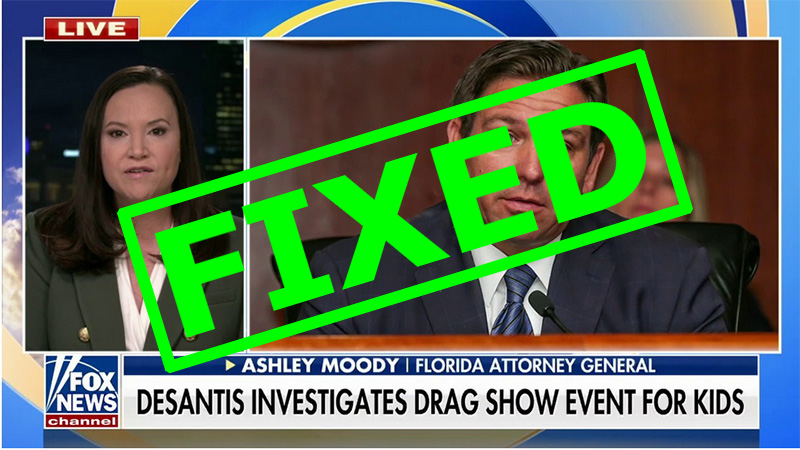 On Friday, March 10, we posted a report about an article published by Fox News on the governor of Florida opposing "Drag Queen" events with children present. The article included a photo of a Drag Queen, with a caption attacking MassResistance's "aggressive techniques" in our pro-family activism – using absurdly blatant lies and distortion – and referencing the discredited Southern Poverty Law Center (SPLC) to libel us as a "hate group."
We didn't just sit back and take it. Immediately our supporters across the country began expressing outrage. That continued all weekend.
On Monday, March 13, Fox backed down and removed the libelous part of the caption! A person who contacted someone at Fox was told that the attack on MassResistance was "an oversight" and should not have been in the article. Whatever their excuse, it's a victory for the pro-family movement.
Here is the original version of the photo and caption: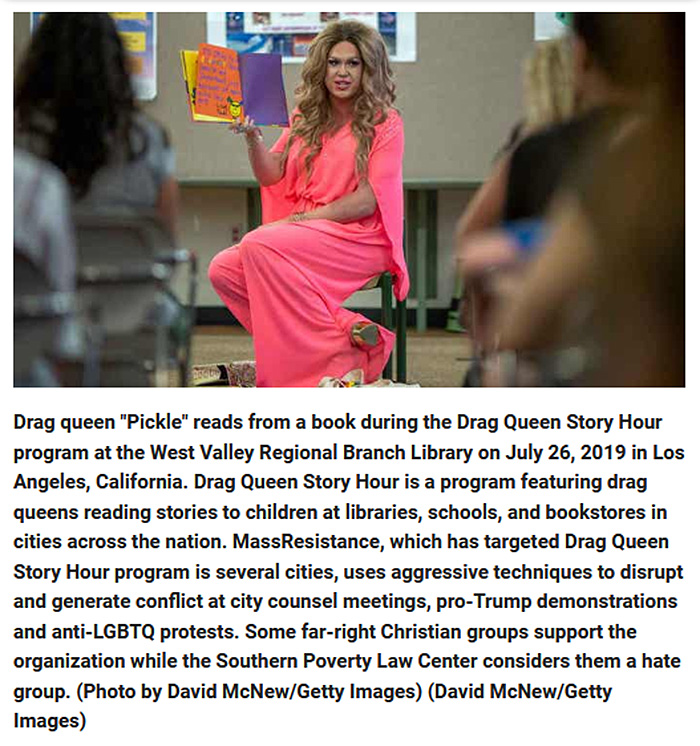 Here's the revised version of the photo and caption as it now appears in the article: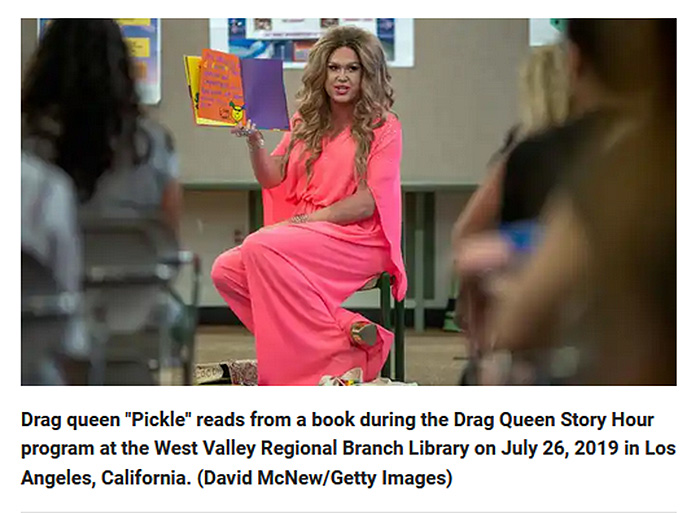 Other media have also backed down on SPLC attacks on MassResistance
The SPLC has labeled hundreds of prominent pro-family groups, Christian groups, and public policy groups as "hate groups." In fact, the SPLC is itself a hate group and has been condemned across the spectrum as a scam fundraising operation whose mission is simply to destroy conservatives. It's become an attack dog of the Left.
As we all know, the leftist media regularly uses the SPLC's charge of "hate group" – in a journalistically unprofessional manner – to vilify conservative organizations in their news stories.
Unfortunately, the conservative movement seems too intimidated to lash back and confront the problem. In 2017, 47 conservative group leaders signed a polite letter to major media outlets, saying that they were "deeply troubled" by the media's use of the SPLC to defame them. The letter was very informative and specific. But it had no observable effect. Leftists never pay attention to the pleas of conservatives on anything.
But MassResistance – especially local parents! – directly confront the media's unprofessional behavior and lack of journalistic ethics and demand that they do their job. (Media people aren't used to that!) As a result, media outlets across the country, including Michigan Public Radio and Wyoming Public Media, have actually made a policy that they will no longer reference the SPLC when covering MassResistance.
Final thoughts
We ended our earlier post saying: "Fox News needs to be pressured to retract their libelous parroting of the SPLC's 'hate group' accusation." Mission accomplished!
We'll also reiterate: It's more important than ever for conservatives to hold the line, despite attacks from all directions.
Please help us continue to do our uncompromising work!
Our successes depend on people like you.
Your support will make the difference!