Latest News Sunday, May 19
They are leading in House & keeping up pressure. Session ends in two weeks.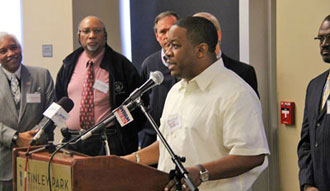 Pastors fighting "gay marriage" in IL hold press conference
Expect Planned Parenthood come out in force.
At Judiciary Committee hearing in Massachusetts State House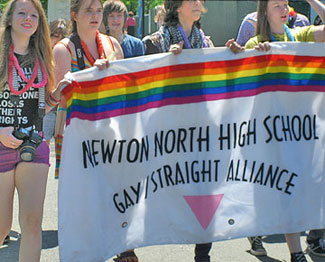 Vulnerable kids are persuaded to join "gay" groups at school. And parents have no power to intervene or even be informed.
NOTE: On May 7 the Delaware Senate caved in and passed "gay marriage" by 12-9. Full report coming.
Pro-family forces fighting hard
Bloomberg News quotes MassResistance
Is Sullivan a conservative we can trust?
Also: "Day of Silence" organizers produce absurd video to attack pro-family activist Linda Harvey
What's going on and what could happen . . .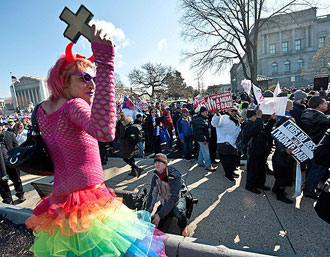 Homosexual activist taunts Christians gathered near US
Supreme Court building during "gay marriage" arguments. Expect to see more of this if any of these cases wins.
Undeterred by counter-protest by homosexual activists
Currently stalled in House as fight for votes continues.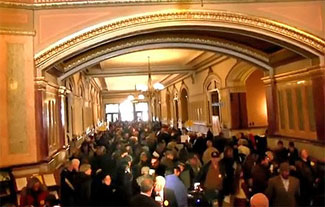 Pro-family citizens filled the hallways of the Illinois State
House demanding legislators not change the marriage law.
"Transgender" boys playing on girls' sports teams, using girls' locker rooms, name & pronoun changes, etc.
We did not pull punches! (See photos, video.).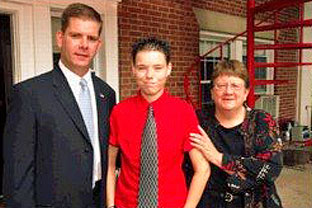 State support. Rep. Martin Walsh and Rep. Liz Malia
proudly pose with "female-to-male transgender" girl at
state-run home in 2004.
Taking proactive action. Bipartisan support among state legislators!
Pushing transgender bill through the Mass. State House: How the homosexual-transgender movement uses activists to lobby your legislators.


Every voter in a state dealing with "gay marriage" should read this!
VIDEO: Possibly the most enlightening speech you will hear on this subject. So powerful that it was banned by YouTube.
Pastor Lively gave this talk at the Resurrection Life of Jesus Church
in Sacramento, California on January 15, 2012.
Defends statement by Orthodox rabbis on homosexuality