MassResistance fight against 'Drag Queen Story Hour' targeting children goes national
Across the country outraged parents and activists have begun contacting us for help
Public officials and media also taking notice and reacting
Here's our report on New York, Alaska, and Michigan. More to come!
December 12, 2018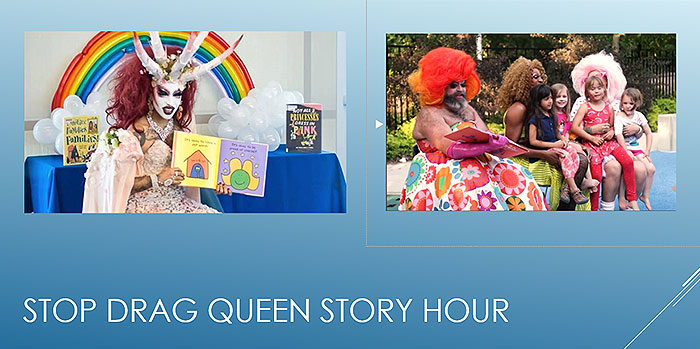 In two previous posts, we reported that our activists in Georgia and California have taken considerable steps to expose and end Drag Queen Story Hour programs.
These events, held mostly in local public libraries, target small children as young as 4 years old. According to their literature, their goals are to "give kids glamorous, positive, and unabashedly queer role models" and to encourage young children to "defy rigid gender restrictions."
Our activism has encouraged others around the country. In the two months since our first report was posted, outraged parents across the country have contacted us, seeking any help possible to put an end to the Drag Queen Story Hour in their local libraries.

New York MassResistance
In New York state, Drag Queen Story Hour events began in Brooklyn and Manhattan, and recently began spreading to Long Island.
On September 22, 2018 the staff of the public library in Port Jefferson, New York, located amidst the working-class communities of Long Island, held a Drag Queen Story Hour program. On the same day there was an uproar in the community to stop it – which was reported the next day on the Breittbart website.
Residents in the Empire State reached out to us shortly after our Oct. 5, 2018 post about MassResistance's victory in Georgia, seeking our help. Parents, grandparents, and even a pastor (who also works as a professor in one of the local universities) sought advice on what to do to stop this program from continuing.
Under the guidance of Arthur Schaper, our Organization Director, a New York MassResistance chapter was formed. They got right to work. First, they contacted locally elected and appointed officials who supervise the Port Jefferson library and its programs. Then they contacted the librarian, the local governing board of trustees, and they even the Suffolk County elected officials to make sure they understood the extreme opposition to this program that people have.
The protests were so effective, that on October 26th, the Port Jefferson Library acknowledged the backlash and announced that they have no plans for another Drag Queen Story Hour! However, in that announcement the library kept the door open for possibly bringing back this program, Here's what they said:
We never say never. We currently have no plans to do another one. If we feel that we have a lot of support, we might, but as of right now no one has asked us to do it again. We'd have to really take into consideration the backlash we had.
So the New York MassResistance activists are continuing to be vigilant in Port Jefferson and across the state.
New York MassResistance activists also contacted a lawyer to learn their rights about presenting their own types of story hour programs at local libraries. We'll know more about this in upcoming weeks.
In addition, our team contacted other libraries in the New York City municipal library system and New York City's council members to oppose this program. They found a very byzantine process in their way, which discourages many people from lodging complaints, let alone accomplish any policy goals, within the New York City bureaucracy. One Brooklyn library told us that they have no control over the scheduled Drag Queen programs. They did agree with our opposition to the programs, though, which was good news.
The staff in one New York City city councilman's office reacted quite rudely when our team called them, saying "We know about MassResistance. We have no further interest in speaking with you."
It's clear that our in-your-face pro-family message is gaining attention—and traction.

Alaska MassResistance
For years we've had supporters in Alaska, but up until now we hadn't heard much from them.
But after our recent posts, a mother in Anchorage, Alaska contacted MassResistance, seeking our help to stop the Drag Queen Story Hour program in the local library. She had read about the program taking place in June, and she wanted to make sure that it never came back. Right away, we equipped her with our flyers as well as strategies to deal with the library, the local community, and elected officials with opposition to the program.
To engage more people in the city, she hosted an information session at a local coffee shop to educate and raise alarm about the program. Her excellent PowerPoint presentation outlined (1) the core ideology and aims of the LGBT agenda, (2) how the LGBT movement is using the Drag Queen events to propagandize the minds of children in a dangerous way, and (3) what Anchorage residents must do to stop the program. (Click here to see the presentation)
Her relationships with the business owners, along with her contacts in local churches and other conservative groups also helped her raise awareness about this. The Christian business owners welcomed her activism, she said.
The core group of the Alaska MassResistance chapter is being assembled. It's quite exciting!
Arthur Schaper sent emails to the Anchorage City Council expressing outrage about the Drag Queen Story Hour. Three of the elected officials actually responded to his emails! Normally, elected officials rarely respond to complaints, especially from individuals outside of the city.
Their answers showed how out of touch they are – and that they haven't been hearing from pro-family parents enough. One of the officials attacked MassResistance and said he supported the "LGBT community" and the city's "diversity and inclusion." Another told Arthur that "The youth of Anchorage have benefited from having Drag Queen Story Hour available to them." The third simply said he wasn't aware of it at all and didn't comment further.
City council members normally do not expect pushback of any kind. MassResistance is leading by example, showing individual parents and small groups of conservatives that they can make a big difference by asserting the truth about the LGBT Agenda and the dangers inherent to homosexuality and transgenderism.
In Mid-November, a "gay" columnist at the very liberal and pro-LGBT Anchorage Press wrote a nasty column attacking MassResistance because we had drummed up attention and opposition to Drag Queen Story Hour. We definitely were getting their attention. Liberals are used to getting their way. They often go bonkers when someone starts to effectively fight back.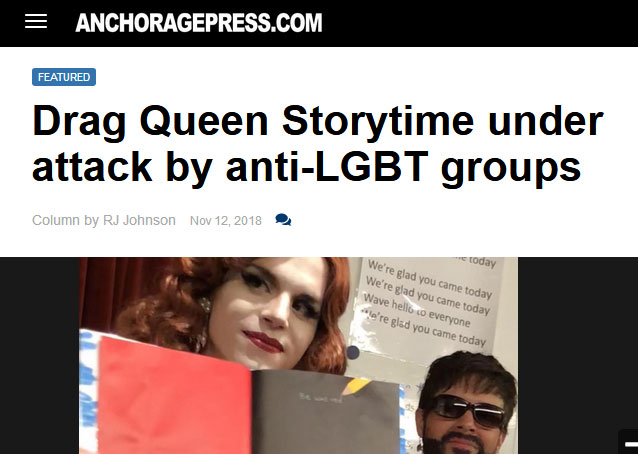 As you see, it's becoming common for the media or left-wing public officials attempt to marginalize any group of people who oppose the liberal agenda and support religious values by publicly calling them a "hate group." Besides being childish and offensive, it shows that they have no cogent argument. It also reflects their own personal hatred of pro-family people and morality.
The Anchorage library has not announced plans for another Drag Queen Story Hour. Alaska MassResistance is bringing on more people and is preparing to continue to let their public officials know that this program is extremely offensive to many.

Michigan MassResistance
Another MassResistance chapter is opening in Michigan. Parents and others on our email list from this state have reached out to us many times over the past eighteen months about starting their own chapter.
The LGBT Movement has been plowing ahead at the local level, and even the state-level in Michigan. Republican party members have developed a pro-gay attitude and even reach out to "gay" groups, we've been told. Sadly, this even includes former Michigan GOP Chair and current Secretary of Education Betsy DeVos.
Local civil rights commissions in Michigan have attempted to tailor non-discrimination statutes to include sexual orientation and gender identity. Thankfully, Michigan pro-family activists have held back most of these changes, but as is happening across the country, the homosexual-transgender ideology is still making headway on the Wolverine State.
In the upscale, liberal city of Huntington Woods, Michigan, a Drag Queen Story Hour has been scheduled for December 13, 2018 and another on January 29, 2019. MassResistance activists in the region and throughout the state have worked tirelessly over the last two weeks to inform and engage city residents and their leaders to stop this. Some of our people have emailed strongly worded messages about this to the city council, the local library, and the city manager who approved the event.
Across the country, our general "Don't Drag Your Kids to Drag Queen Story Hour" flyer which has been modified for each situation.
One of our MassResistance activists has connected with local and statewide Republican committees to inform the more conservative members about this program: "I have already started [sharing the flyer] yesterday with your first email. I have it all over. People are fired up. I will bring this up at the state committee meeting as well, as this cannot be allowed," she recently informed us.
In addition, Church Militant, the aggressively traditionalist Catholic online publication located in Detroit (but with a worldwide audience), reported on our MassResistance team's efforts to stop the Drag Queen program in Michigan.
Michigan MassResistance members will be attending and protesting the December 13 Drag Queen program. We will let you know what happens.
MassResistance is there to make the difference!
While the pro-family establishment avoids confrontation, and even shuns or avoids media scrutiny, MassResistance equips and engages concerned parents to turn their outrage into a force for good, often gaining the attention (and wrath) of the political and media classes. But as we've seen so many times, that's what ultimately brings success.
Today's report is just the tip of the iceberg. MassResistance activists in states across America are organizing and taking action. We will keep you informed about the ongoing efforts of our chapters in the US – and around the world – to fight the LGBT movement targeting children, including its latest corrupt iteration with Drag Queen Story Hour.
Please help us continue to do our uncompromising work!
Our successes depend on people like you.
Your support will make the difference!