Powerful MassResistance conference in Texas on Oct. 27. Titled "If not now, then when?"
Educating and equipping the family and the church to counter the LGBTQ Agenda
Second annual event -- co-sponsored by Concerned Christian Citizens
October 13, 2018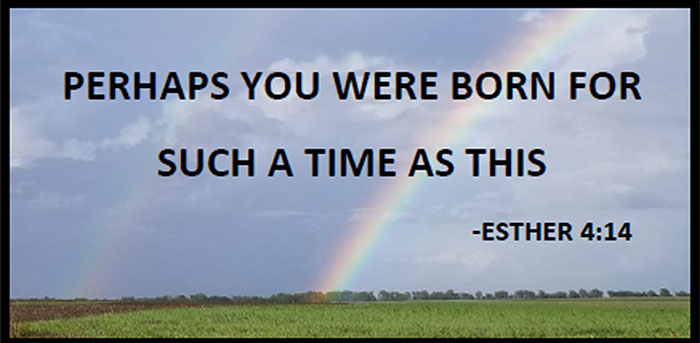 On Saturday, Oct. 27 from 3:00-6:00 pm, MassResistance Texas along with Concerned Christian Citizens will be holding their second annual conference in Killeen, Texas.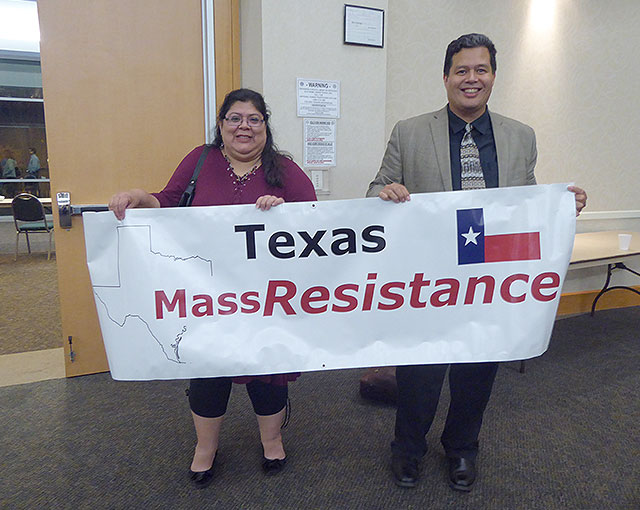 This is not your average soft-pedaling pro-family conference. The powerful roster of speakers (see list below) will address how the LGBTQ agenda is targeting all areas of society – and what the family and church must do about it. There will be special attention to attacks on youth, churches, government, schools, and counseling. "This is a call to preparedness and action," said Joe Goodson, a pastor and head of Concerned Christian Citizens.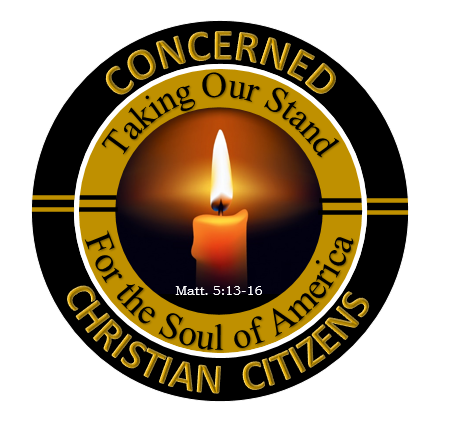 Titled, "If not now, then when?" the conference will answer the burning questions so many parents and citizens have: Will the LBGTQ agenda to normalize perversion and indoctrinate our children succeed? Will Christians move from the sidelines to the frontlines to fight this?
There is a definite sense of urgency that all of us are feeling. The conference organizers have listed just a few of the recent attacks facing society:
The Colorado bakery owner prosecuted for refusing to create cakes celebrating same-sex "marriage" -- and even "gender transition"!  Will this happen to all Christian business owners?
Students in public schools and college campuses being forced to use "preferred pronouns" or face punishment. Where will this insanity end?
"Drag Queen Story Hour" events – where radical adults work to normalize transgenderism to small children – are happening in public libraries across the country. Will this be coming to your local library?
Reparative therapy for sexual orientation or gender identity issues now being banned by several states, denying help to people who want it. Is the medical field becoming completely subverted to this ideology?
In parts of Europe and Canada, bans on preaching on parts of the Bible that disagree with homosexuality. Will the United States be next?
As Pastor Goodson reminds us, "The only thing necessary for the triumph of evil is for good men to do nothing. This conference will help people equip people to understand the times and respond appropriately."
The year's conference speakers include:
Dr. Robert Oscar Lopez, professor at Southwestern Baptist Theological Seminary in Ft. Worth, and leader of MassResistance Texas. Author of our hard-hitting "Save our Churches" video series.

Pastor Steven Broden, of Fair Park Bible Fellowship Church in Dallas, and Protect Life and Marriage Texas.

Rusty Thomas, Operation Save America, Waco.

Steven F. Hotze, MD, leader of Campaign for Houston, which successfully overturned the transgender "bathroom bill" passed by the left-wing Houston City Council in 2015, and is now confronting the "Drag Queen Story Hour" happening there.

David Pickup, Licensed Marriage and Family Therapist, specialist in reparative therapy for people with sexual orientation or gender identity issues.

Terry Delano, former School Board President, Killeen, TX.
Many of you may recall that last year's conference, held at the Killeen Civic Center, was such a blockbuster that YouTube banned Dr. Robert Lopez's speech on "The lies of the 'gay' movement" (we've re-posted through a different service). Caryl Ayala's speech on "How LGBT 'training' gets into elementary schools" was also very powerful.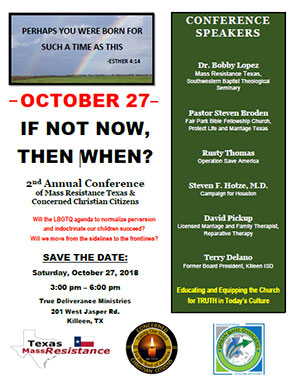 This year's conference is at a new venue. The local African-American church that co-hosted last year's event has enthusiastically invited us to its building!
Saturday, October 27, 2018
3:00 pm – 6:00 pm

True Deliverance Ministries
201 West Jasper Dr.
Killeen, Texas
There is no entrance fee, though donations to help with costs will be accepted.

If you can possibly make it to Killeen, TX (not far from Austin) on Oct. 27, this will be extremely worthwhile. We already know of someone coming from Canada to attend!

We hope to see many of you there!

Please help us continue to do our uncompromising work!

Our successes depend on people like you.

Your support will make the difference!